Animation
VIDÉOS ANIMATION ET COURTS METRAGES.
Figurines animées. Dessin animé. #. Amnesty International - CRCR - WIZZprod° The Controversial Cartoons of Pi San - Video Feature. Spurred by the detention of the artist and government critic Ai Weiwei in April, Pi San created this satirical animation as a tribute to Ai — and, more broadly, as an indictment of the corrosive effects of censorship on society, on language itself.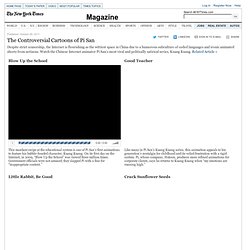 A masterpiece of comic subterfuge, the animation refers to Ai not by name but mainly through the subject of one of his most famous solo exhibitions: the 100 million porcelain sunflower seeds he laid out across the floor of the Tate Modern in 2010. (The Chinese character for Kuang Kuang's exasperated sigh, "ai," (哎) also happens to be just a few brush strokes away from Ai's surname (艾).) Solidarités International et BDDP Unlimited veulent faire couler de l'encre sur l'eau insalubre. Nudemen Clock - Francis Lam.
Bougie
Comment faire l'amour avec ses mains.
---
artattrape Feb 1 2013

Et moi prof d'arts plastiques donc tout autant interpellée.
Bonne inspiration !

timshelle Jan 31 2013

merci je suis dessinatrice donc interessée par les films d animation
amicalement

artattrape Jan 31 2013

Merci ! avec un coup de coeur pour la vie sexuelle d'une pate à modeler... So fun ! Je n'ai encore tout visionné.
---