Travel
To outsiders, buying a Round-the-World plane ticket can be a mysterious process. How does it work? Where can you go?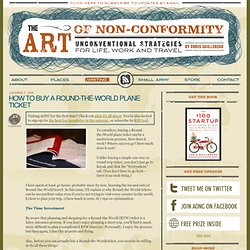 How to Buy a Round-the-World Plane Ticket
Casa Angelina Hotel, Amalfi Coast, Campania
Salvation Mountain - Official Website - Niland, California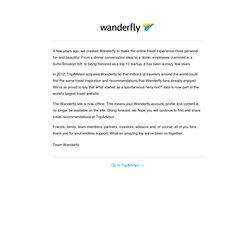 A few years ago, we created Wanderfly to make the online travel experience more personal, fun and beautiful. From a dinner conversation idea, to a dozen employees crammed in a Soho/Brooklyn loft, to being honored as a top 10 startup, it has been a crazy few years. In 2012, TripAdvisor acquired Wanderfly so that millions of travelers around the world could find the same travel inspiration and recommendations that Wanderfly fans already enjoyed. We're so proud to say that what started as a spontaneous "why not?" idea is now part of the world's largest travel website. The Wanderfly site is now offline.
In a modern world where traveling between destinations is viewed as a waste of time and resources, it is hard to actually comprehend the beauty of some of the most spectacular rides on the planet. Far less comfortable, yet far more beautiful and interesting, the time spent between two destinations is equally captivating and offers many sights and sounds. While we are very much in a century where we have 'no time to stand and stare', there are still some awesome train rides across the globe where the trip itself turns into a destination. So how about hopping on these 10 grand train journeys? Glacier Express
Traditional Turf Houses In Iceland In Iceland | Top Travel
The Icelandic turf house was the product of a difficult climate, offering superior insulation compared to buildings solely made of wood or stone, and the relative difficulty in obtaining other construction materials in sufficient quantities. Due to the lack of transport and Iceland's remoteness, importing foreign timber was not very common and mostly reserved for ship and church building. However, Iceland did have a large amount of turf that was suitable for construction. photo source