Beauty and health
How To Style Maiden Braids - A Beautiful Mess - StumbleUpon. Last month I did a makeover story with Kelsie and had many requests for a maiden braid tutorial.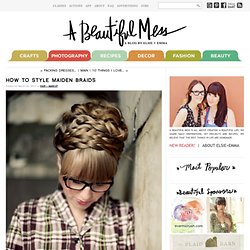 Yesterday she came in and we photographed these simple step by steps. Kelsie has extremely long and thick hair, but anyone with shoulder length or longer can do these braids (see my photo below for an example). Steps 1-2: Braid two strands on each side of a center part. Steps 3-5: Wrap braids around the crown of your head and pin in place with one pin each. 5 Foods You Have In Your Kitchen That Should Be In Your Hair. Baking soda should be in your hair if it has build-up.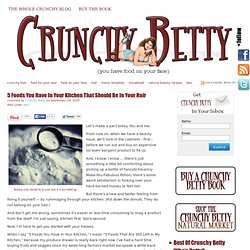 Let's make a pact today. You and me. From now on, when we have a beauty issue, we'll look in the cabinets – first – before we run out and buy an expensive (or even bargain) product to fix us. And, I know, I know … there's just something a little bit comforting about picking up a bottle of FancySchmancy-Make-You-Fabulous Potion; there's some weird satisfaction in forking over your hard-earned money to feel hot. 25 Beauty Tips Reusing Household Items – Homemade Beauty Tips on ELLE.
1.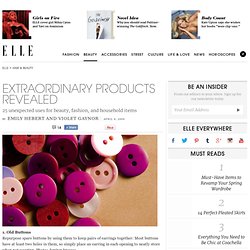 Old Buttons Repurpose spare buttons by using them to keep pairs of earrings together: Most buttons have at least two holes in them, so simply place an earring in each opening to neatly store when not wearing. Photo: Jupiter Images. The Calorie Control Council | Healthy Eating & Exercise for Life. How to make your own pore strips. You know those Biore pore strips you buy at the drugstore for about $12 a pop? Yeah, those. Today I'm going to teach you how to make your own homemade pore strips. Why?
---