Contemporary
Interiørmagasinet - Japan møter Skandinavia
January 2011 Japan møter Skandinavia Tekst: Astrid Beate Madsen Foto: Glen Clayton, Parida Lim, Michael Banks Arkitekter: K+K Associates, Hong Kong og Atelier BNK, Sapporo i samarbeid med Odin Property | Interiør: Andrew Bell Ryktene om femten meter nysnø i sesongen lokket brødrene Fjelddahl til Niseko. Der ble de sjarmert av gode snowboardmuligheter og japansk kultur.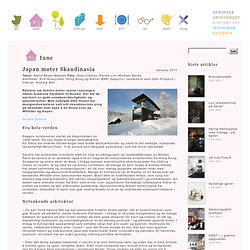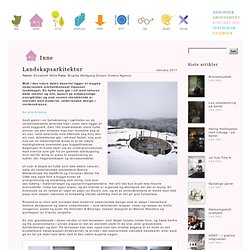 January 2011 Landskapsarkitektur Tekst: Elisabeth Wille Foto: Birgitta Wolfgang Drejer/ Sisters Agency Midt i den vakre dalen Vasertal ligger et magisk nederlandsk arkitektkonsept tilpasset landskapet.
Interiørmagasinet - Landskapsarkitektur
Bunker Hill - Villa Sandberg
Stahl House, l'architecture minimaliste de Pierre Koenig - Architecture américaine - Ma Décoration
円山の家 | ATELIER SANO アトリエサノ
World Homes: A Finnish Forest | LA Grove Living
Living in a modern dream forest home without exceeding a price margin, Petteri Knudsen's small house on a lake in Finland is furnished simply: with a custom-made sofa by the Finnish designer Harri Koskinen ($2,750); a table made out of an old door, by Ville Hara, Dr. Knudsen's ex-boyfriend and one of the architects who designed the house; and a moosehide rug. The Louis Poulsen Satellite lamp ($715) in the dining area hangs over a birch table from the Finnish maker Nikari (a prototype bought for $1,000) and wooden chairs salvaged from the trash. Mr.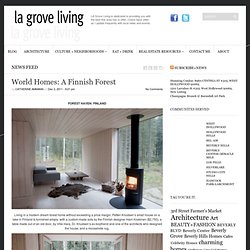 En regardant cette maison, on se dit qu'elle doit être située dans le nord de la Scandinavie quelque part. En réalité, vous la trouverez au fond d'une forêt au sud de Berlin... Dans tous les cas, l'atmosphère est bien nordique! Aujourd'hui nous allumons la première bougie de l'Avent, et si j'ai le temps plus tard cet après-midi, je vous montrerai à quoi ressemble finalement mon bougeoir de l'Avent... Passez un excellent dimanche! Looking at this house, you would think it is situated in the north of Scandinavia somewhere.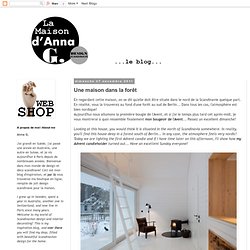 Une maison dans la forêt
MYZ House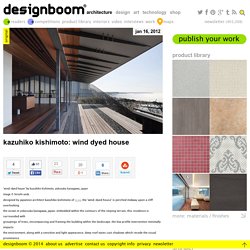 'wind-dyed house' by kazuhiko kishimoto, yokosuka kanagawa, japan image © hiroshi ueda designed by japanese architect kazuhiko kishimoto of acaa, the 'wind-dyed house' is perched midway upon a cliff overlooking the ocean in yokosuka kanagawa, japan. embedded within the contours of the sloping terrain, this residence is surrounded with groupings of trees, encompassing and framing the building within the landscape. the low profile intervention minimally impacts the environment, along with a sensitive and light appearance. deep roof eaves cast shadows which recede the visual prominence of the structure. front elevation image © hiroshi ueda
kazuhiko kishimoto: wind-dyed house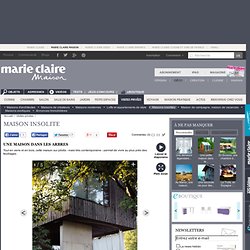 Une maison dans les arbres
Une construction moderne C'est une construction moderne sur un terrain doucement pentu à Saint-Peter en Autriche. Elle se caractérise par des lignes sobres et rigoureuses et par l'usage de la nature comme écran au voisinage : il était hors de question d'abattre un seul arbre, la maison a donc été pensée en fonction de leur implantation et offre une impression d'immersion totale dans les sous-bois.Installées dans des modules en bois sur pilotis de béton (pour une superficie totale de 220 m2), les deux chambres de la maison bénéficient d'une vue magnifique sur les arbres et leurs frondaisons. Pour qu'ils se fondent dans la nature, ces modules ont été habillés d'épicéa dont la couleur évolue peu à peu vers un très beau gris. Une salle à manger d'été a été aménagée sous l'un des modules, que l'on peut isoler grâce à un grand rideau de coton blanc qui coulisse sur une tringle.
Jérome galland/ Aleph Une maison lumineuse C'est avec leurs cinq enfants que Pierre et Sandrine Colin ont choisi de vivre dans cette magnifique maison constituée d'un plateau de 90m2 dont 45 m2 de coursive extérieure. Les parents ne souhaitaient pas quitter définitivement la capitale, le lieu idéal était alors difficile à dénicher.
Une chambre à l'esprit zen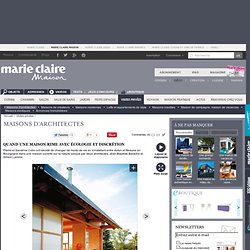 Entre la mer Baltique et la mer du Nord, sur la prequ'île du Jutland, une ferme de 15 000m2. Elle est la propriété d'Hanne Lind et Peter Bonderup, deux architectes danois, qui ont décidé de quitter la vie agitée de Copenhague pour se réfugier dans cet écrin de nature. Après 17 ans de vie citadine, les deux architectes voient dans cette immense grange l'opportunité de créer à la fois leur maison et leur agence. Très vite, le couple décide que ce projet est l'occasion de laisser libre cours à toutes ses envies: cette maison sera leur manifeste.
Une salle à manger cocooning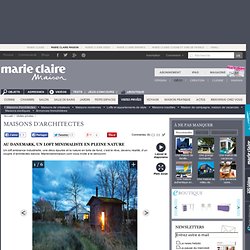 Amin Taha Architects have designed a small apartment building in London, England. The building is finished in an all-encompassing monolithic black render making up all external elements of the building including, parapets, sills, and window reveals. Internally exposed block-work, concrete floors and ceilings with some gypsum partitions the apartments.The client expressed an ambition for utility and unadorned domesticity.
Ada Street by Amin Taha Architects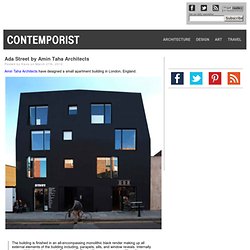 Frame House
'kiko house' by alfredo resende arquitectos, porto, portugal image © luis ferreira alves portuguese studio alfredo resende arquitectos has recently completed 'kiko house', an update to a dwelling within the vilarinha neighborhood of porto, portugal. flanked by structures constructed 60 years ago, the residence is bordered by two avenues within a quiet area. initially limited by the buildings conception as a state-funded project, the minimal volume's character was maintained to integrate into the established surroundings placed within an orthogonal grid. inside, the ground floor rooms were opened to each other, removing walls to welcome the daylight into a singular space. a folding screen may be pulled across the edge of the kitchen to add a sense of separation as it is needed.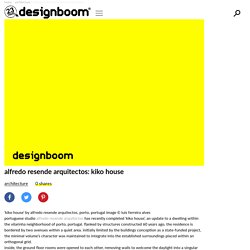 alfredo resende arquitectos: kiko house