geopo international
Get flash to fully experience Pearltrees
AS PROTESTS against financial power sweep the world this week, science may have confirmed the protesters' worst fears.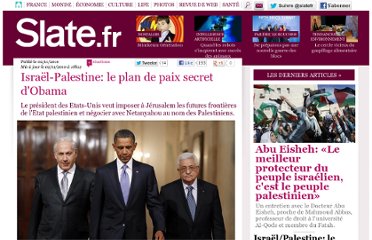 - Benjamin Netanyahou, Barack Obama et Mahmoud Abbas Jason Reed / Reuters - Le parti conservateur américain devrait remporter haut la main les élections de mi-mandat. Les Israéliens peuvent-ils s'en réjouir?
I ls s'appellent « Oxomar » ou bien « Anonymous Palestine ». Ces hackers arabes ont lancé une nouvelle guerre contre Israël. Leurs cibles: les sites Internet de cinémas, de journaux, de la Bourse de Tel Aviv, de la compagnie nationale aérienne El Al, mais aussi de banques israéliennes.
Site spécialisé dans la publication de documents officiels, essentiellement d'origine américaine, Wikileaks vient de mettre en ligne un énorme dossier contenant une invraisemblable quantité de documents secrets téléchargeables ici (attention, le fichier compressé fait 75 Mo !) sur la guerre en Afghanistan. Il y en a plus de 91.000 ! Cette fuite est un événement de dimension historique. Elle aura sans aucun doute des effets comparables à ceux qu'avait produits la parution des Pentagon Papers par le New York Times, en 1971. D'origine diplomatique et militaire, ces documents relataient les dessous explosifs des relations entre les États-Unis et le Vietnam, et avaient été "sortis" par Daniel Ellsberg, un analyste de la Rand Corporation.