Centres d'interets variés
Resources: Database: Norman Mailer, "The White Negro," Fall 1957, reprinted in Dissent, Winter 2008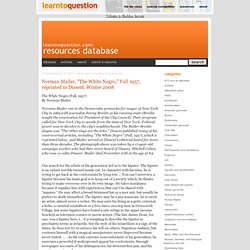 Norman Mailer, "The White Negro," Fall 1957, reprinted in Dissent, Winter 2008 The White Negro (Fall, 1957) By Norman Mailer Norman Mailer ran in the Democratic primaries for mayor of New York City in 1969 with journalist Jimmy Breslin as his running mate (Breslin sought the nomination for President of the City Council). Their program called for New York City to secede from the state of New York. Political power was to devolve to the city's neighborhoods.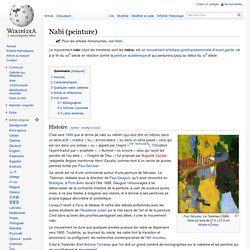 Un article de Wikipédia, l'encyclopédie libre. Pour les articles homonymes, voir Nabi . Le mouvement nabi (dont les membres sont les nabis ) est un mouvement artistique postimpressionniste d' avant-garde , né à la fin du XIX e siècle en réaction contre la peinture académique et qui perdurera jusqu'au début du XX e siècle. Histoire [ modifier ] C'est vers 1888 que le terme de nabi ou nebiim ( qui veut dire en hébreu dans un sens actif « orateur » ou « annonciateur » ou dans un sens passif « celui qui est ravi dans une extase » ou « appelé par l'esprit » [réf. nécessaire] ), l'Occident l'ayant traduit par « prophète », « illuminé » ou encore « celui qui reçoit les paroles de l'au-delà », « l'inspiré de Dieu ») fut proposé par Auguste Cazalis (wikipedia Anglais mentionne Henri Cazalis) comme nom à un cercle de jeunes peintres fondé par Paul Sérusier .
Nabi (peinture)
expressionnisme allemand
The Paris Metro and the service it provides are deeply intertwined into the fabric of the city. As the 4.5 million passengers who ride it every day will probably attest it's the quickest way around whether it's for work, for play or both. The metro's distinctive art-nouveau style is unmistakable and the plant like green wrought iron entrances topped with the orange orbs and Metropolitan signage designed by Hector Guimard which sprout up all over the city lead one down to the gleaming white tiled platforms to be whisked away around Paris. On my first trip to Paris I arrived into Gare du Nord and entered the dense maze that is the metro. Despite the crowds, the noise and the distinct odour of piss, I was in love. The kind of love which inspires one to risk life, limb and deportation to get up close and personal.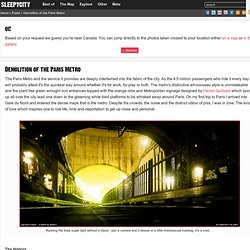 Malcolm X: The FBI Files
J'ai visité les caves secrètes du Vatican
Par Janlou Chaput, Futura-Sciences Parmi la trentaine de groupes sanguins qui existent, deux petits nouveaux viennent d'intégrer la liste. Nommés Junior et Langereis, ils concerneraient peu de gens mais pourraient expliquer quelques-unes des difficultés consécutives à des transfusions sanguines, le rejet de certaines greffes ainsi que des incompatibilités entre une mère et son enfant à naître.
Deux groupes sanguins viennent d'être découverts : Junior et Langereis