Cool Sites
How to boost or increase earphone speaker volume on Samsung Galaxy S II I9100 ~ Android Tips & Tricks. If you are not satisfied and having problem on Samsung Galaxy S II speaker volume like its very low even you've already set to its maximum volume.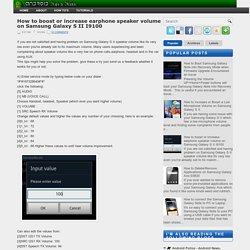 Many users experiencing and been complaining about speaker volume like a very low on phone calls,earphone, headset and in the car using AUX. This tips might help you solve the problem, give these a try just send us a feedback whether it works for you or not: A) Enter service mode by typing below code on your dialer : *#*#197328640#*#* click the following: [5] AUDIO [1] NB (VOICE CALL) Choose Handset, headset, Speaker (which ever you want higher volume) [1] VOLUME [1] SRC Speech RX Volume Change default values and higher the values any number of your choosing, here is an example: [0]0_lvl : 68 [1]1_lvl : 72 [2]2_lvl : 76 [3]3_lvl : 80 [4]4_lvl : 84 [5]5_lvl : 88 Higher these values to until hear volume improvement. Can also edit the values from: [2]DST I2S1 TX Volume [3]SRC I2S1 RX Volume: 100 [4]DST Speech TX Volume: 94. Tuts+ Hub — The Best Place to Learn Online.
Highest Rated - Status Humor - Funny Status Updates, Funny Status, Funny Status Messages, Funny Facebook Status, Funny FB Status, Funny Statuses, Status Humor, Funny Status Update - StumbleUpon. Absolutely Genius Ideas. Computer wallpapers / wallbase.cc.
---