Baalagaci
Saudi Arabian Baboons Kidnap Puppies & Raise Them As Pets.
Jilted flies drown their sorrows with alcohol - life - 15 March 2012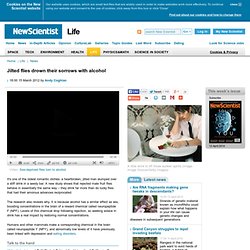 Video: Sex-deprived flies turn to alcohol It's one of the oldest romantic clichés: a heartbroken, jilted man slumped over a stiff drink in a seedy bar. A new study shows that rejected male fruit flies behave in essentially the same way – they drink far more than do lucky flies that had their amorous advances reciprocated. The research also reveals why. It is because alcohol has a similar effect as sex, boosting concentrations in the brain of a reward chemical called neuropeptide F (NPF).
The oi.... Kony2012 Project