Free Energy
Autoblog Green — We Obsessively Cover The Green Scene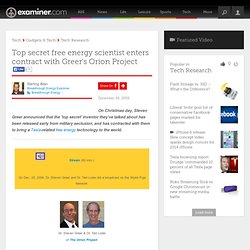 On Christmas day, Steven Greer announced that the 'top secret' inventor they've talked about has been released early from military seclusion, and has contracted with them to bring a Tesla-related free energy technology to the world. On Christmas day, as "a Christmas present to the world," Steven Greer, M.D., and his science advisor, Ted Loder, Ph.D., from the Orion Project, announced on the World Puja Network that the "top secret" inventor they've talked about over the past year has been released early from military seclusion, and has contracted with them to begin bringing various technologies he has developed (in some cases at taxpayer expense) to the world, beginning with a free energy technology in the tradition of Nikola Tesla. They are hoping to have a sample prototype to begin to disclose to the public this spring.
Free Energy by April 2010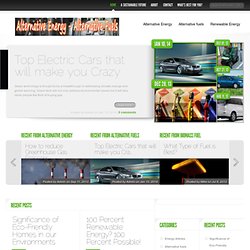 If you want to live a fully comfortable and promising life without extra paying of bills and charges then I would recommend you to adopt your living style in eco-friendly environment. read more Mankind's dependence on fossil fuels has taken a toll on the environment. This has been very well documented over the years. That dependence has also gotten to the point …
Alternative Energy - Alternative Fuels; Natural Gas, LPG, NGV
"Get Your Mind * BLOWN * With A Free Energy Blast From The Past!" I got interested in Free Energy in 1973 when I was 22 years old. On a bus trip to Ann Arbor, Michigan, at a rest stop at Battle Creek, I happened to see an article in a small newspaper about a "fuel-less electric engine" that was going to change the world! When I got home, I wrote a letter to the inventor, but was told that no other information could be given out at that time. It was another three years before I learned anything more about this amazing invention. Back then, there were no computers, or internet, or Google Search, or Patent Records on-line, or discussion groups, or YouTube, or any other ways to find out about things right away.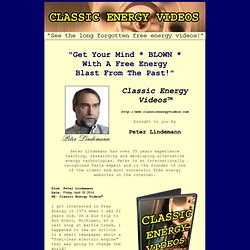 Classic Energy Videos | Rare Free Energy Videos
The Motor is The Catalyst 1 The Motor is The Catalyst | 2 The Generator is Free Mechanical Energy | 3 Power Recovery Circuit | 4 «Back to The New Site Really if you think about it perpetual motion is just a word, and maybe interpreted as a machine that is running itself or charging it's own battery to run itself forever and that can run off it's own power supply or output. This is impossible, however everything is already in a state of perpetual motion.
Marc Striebeck's Free Energy Device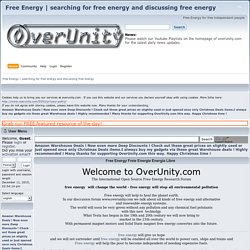 Welcome to OverUnity.com The International Open Source Free Energy Research Forum Free energy will help to heal the planet earth. In our disccusion forum www.overunity.com we talk about all kinds of free energy and alternative and renewable energy systems. The world will soon be very green without any pollution and any chemical fuel polutants with this new technolgy.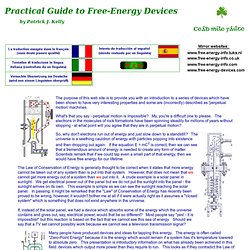 The purpose of this web site is to provide you with an introduction to a series of devices which have been shown to have very interesting properties and some are (incorrectly) described as 'perpetual motion' machines. What's that you say - perpetual motion is impossible? My, you're a difficult one to please. The electrons in the molecules of rock formations have been spinning steadily for millions of years without stopping - at what point will you agree that they are in perpetual motion? So, why don't electrons run out of energy and just slow down to a standstill? The universe is a seething cauldron of energy with particles popping into existence and then dropping out again.
Free-Energy Devices, zero-point energy, and water as fuel