After Effects
Cinematic Opening Title Redux - Day 1. In this 2 part tutorial we revisit the Cinematic Opening concept with an homage to all of you, our readers, by enshrining all of the comments left on the site in a "ready for Hollywood" delivery.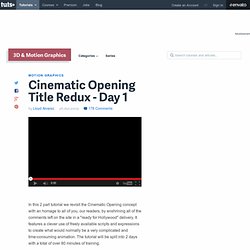 It features a clever use of freely available scripts and expressions to create what would normally be a very complicated and time-consuming animation. The tutorial will be split into 2 days with a total of over 80 minutes of training. In day 1 we cover cunning techniques to harness a large amount of text and quickly format and animate it in a cinematic style. Cinematic Opening Title Redux - Day 2.
Create a MoGraph Urban Jungle - Day 2. In day 2, Naim show us how to setup the vector graphics in Illustrator then track the man on the phone in Mocha AE.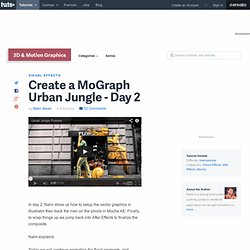 Finally, to wrap things up we jump back into After Effects to finalize the composite. Naim explains: 3D Time Freeze (Glass) Transform daylight footage to night footage Add artificial lights and illuminate windows Simulate a frozen world around one person This simple effect uses masks to create...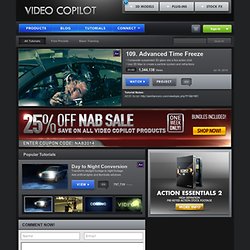 Create titles that fly by the camera Learn a little bit about keyframes &... Create a cloudy smoke title with real footage Combine video elements with a particle system. Galactic Orb. New Light Saber preset with enhanced...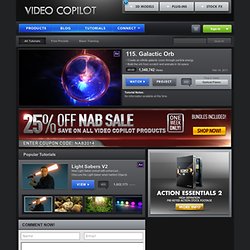 Obscure the Light Saber when behind Objects Create depth of field with live action... Take advantage of the new lens blur effect. Infographic Interaction. In this tutorial Markus walks us through the creation of a video accompaniment to Bruce Lee's 'Be Water' philosophy.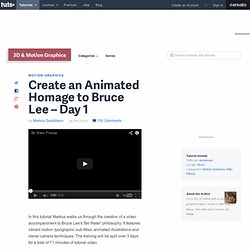 It features vibrant motion typographic sub-titles, animated illustrations and clever camera techniques. The training will be split over 3 days for a total of 71 minutes of tutorial video. Beginners Tutorial. Create a Futuristic Floating Hologram Effect. Morphing Letters. Twice a month we revisit some of our reader's favorite posts from back in the archives of Aetuts+.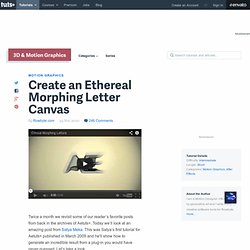 Today we'll look at an amazing post from Satya Meka. This was Satya's first tutorial for Aetuts+ published in March 2009 and he'll show how to generate an incredible result from a plug-in you would have never guessed. Let's take a look… Beautiful Rain Scene. In this massive 2 part tutorial inspired by the work of Pierre Michel, Alex Verlan shows us how to create the dramatic slow motion rain drops falling scene entirely within After Effects.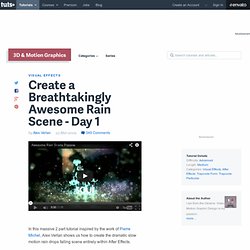 Requirements:Trapcode Particular (download the trial version here) Trapcode 3D Form (download the trial version here) Trapcode Shine (download the trial version here) Tilt-shift. Create an animated 'toytown' effect using a crafty tilt-and-shift effect in After Effects.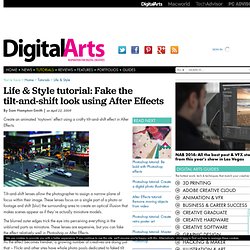 Tilt-and-shift lenses allow the photographer to assign a narrow plane of focus within their image. These lenses focus on a single part of a photo or footage and shift (blur) the surrounding area to create an optical illusion that makes scenes appear as if they're actually miniature models. The blurred outer edges trick the eye into perceiving everything in the unblurred parts as miniature. These lenses are expensive, but you can fake the effect relatively well in Photoshop or After Effects. Giant Energy Ball. Make a planet explode using the shatter...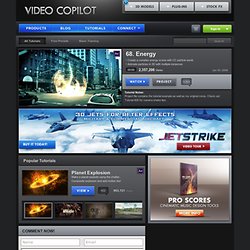 Composite explosion and add motion blur Build organic mesh with noise modifiers... Use procedural texturing to give a... Rorschach Effects. Logo Animation. In this tutorial, we will learn some of the cool new features introduced in Trapcode Particular v2.0.
Inspiration for this tutorial is from the logo reveal of the Digital Domain Animation Company. It may not be as good as that (since it had been done completely using a 3d software), but I thought to give it a try in After Effects. Trapcode Particular 2 You can download a trial version here. Tutorial Step 1. 3D DNA Strain. Typically, in a WordPress website, the home page shows the blogger's latest posts, but what if yo...
Typically, in a WordPress website, the home page shows the blogger's latest posts, but what if you wanted the homepage of your website to display the same page every time? For those of you who are just getting started with WordPress, then it's worth noting this is not only possible, but it's really easy.In this article, we'll talk about how to implement a static front page in WordPress as well as where it would and wouldn't be appropriate.Read More… Animated vector mixed with real life. In this tutorial Naim Alwan ventures outside of After Effects for a little bit of 3D Matchmoving to create this stunning Urban Jungle effect where vector graphics are perfectly tracked to some city footage.
In day 1 you will learn how to do a track using Boujou (although any matchmoving software will work for this) and then import and apply that information in After Effects successfully. In this two part tutorial you will learn the workflow for seamlessly integrating live action footage with motion graphics elements. The first day we are going to be spending a little time familiarizing ourselves with the camera tracking process using Boujou, and the settings we need to get right in order to export an AE camera track. We will then use the information contained on the nulls to setup the scene. Once the track is imported in AE and scene setup we will shift our focus to Illustrator where we will cover the layer setup we need in order to import an Illustrator file into AE.
Stormy, Electric Type. Window Lighting. 3D Cloud Motion from still image.
---