Employment
Your Resume: What Information Do Employers Verify? Resume Critique Checklist. Resumes normally get less than a 15-second glance at the first screening.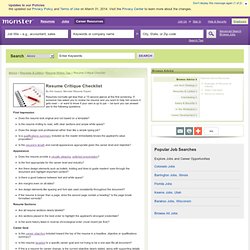 If someone has asked you to review his resume and you want to help him ensure it gets read -- or want to know if your own is up to par -- be sure you can answer yes to the following questions: First Impression Does the resume look original and not based on a template? The Cloud Approach To Writing Your Resume. One of the hardest things about writing a resume is the process of preparing it for electronic eyes--many resumes are scanned and ranked against preferred keywords and never even reviewed by hiring managers.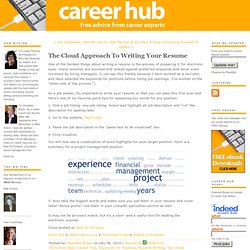 (I can say this frankly because I have worked as a recruiter, and have selected the keywords for positions before listing job openings. I've worked on the "other side of the process. ") Using a Digital Signature to Spruce Up Your Cover Letters. Home > Cover Letters > Using a Digital Signature to Spruce Up Your Cover Letters Most job applications are submitted through the Internet today, either through an online application system or by e-mailing cover letters and resumes as attachments.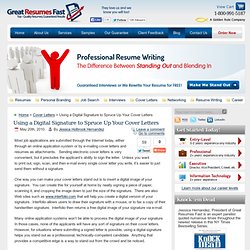 Sending electronic cover letters is very convenient, but it precludes the applicant's ability to sign the letter. Unless you want to print out, sign, scan, and then e-mail every single cover letter you write, it's easier to just send them without a signature. Cover Letter Errors. Like job seekers, bloggers often reach out and network with each other.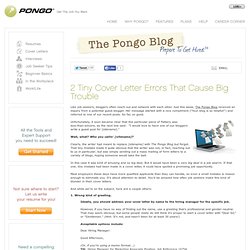 Just this week, The Pongo Blog received an inquiry from a potential guest blogger. Her message started with a nice compliment ("Your blog is so helpful! ") Resumebook360 - Home. 4Jobs.com. JobsOnline.net. Go2WorkSource.com - Search Jobs, Post Résumés, Career Resources. Elance | Outsource to freelance professionals, experts, and consultants - Get work done on Elance. IT Tutorials and Interview questions. Jobster.com. Jobs not ads | Direct Employers Job Search Engine | JobCentral. USAJOBS - The Federal Government's Official Jobs Site. Find Jobs. Build a Better Career. Find Your Calling. | Monster.com.
Jobs : Job Search for Full and Part Time Jobs : Job Listings on Employment Guide.com. Job Bank USA: Employment, Job Search, Careers, Computer Jobs. Encore Careers | combine purpose, passion and a paycheck. All jobs, just one search | JobiJoba: your job search engine. USA Employment - pearltree team. Jobs - The Largest Job Search, Employment & Careers Site. Dice.com - Job Search for Technology Professionals.
---