PHP
Get flash to fully experience Pearltrees
Cet article a pour but de proposer une solution simple pour introduire plusieurs langues dans vos sites web, avec une interface administrateur. • Niveau : néophyte à intermédiaire/expert • Connaissances abordées : XHTML : les formulaires,
<?php * @version $Id: exchange.php 4408 2010-12-03 19:26:30Z tonyb $
In the past days I received several requests from my readers to suggest some CAPTCHA scripts and services quickly to embed into a web page. This post proposes a list of ten interesting scripts and services you can use to provide protection from spam bots and ensure that only humans perform certain actions. 1. reCAPTCHA
The reCAPTCHA PHP Library provides a simple way to place a CAPTCHA on your PHP website, helping you stop bots from abusing it. The library wraps the reCAPTCHA API . To use reCAPTCHA with PHP, you can download reCAPTCHA PHP library .
This article is mostly based on my post on my business website Zipline Interactive , PHP Captcha Image Verification . For a demo refer to this link or contact me. This CAPTCHA is a PHP script that protects websites against spam bots by dynamically generating a random string of text that humans can read but current computer programs cannot. For example, humans can read the randomized text as the one shown below, but automatic spam systems ca not read the random image text. This CAPTCHA uses PHP , Sessions and PHP's GD Library with PNG support. The term CAPTCHA (for Completely Automated Turing Test To Tell Computers and Humans Apart) was coined in 2000 by Luis von Ahn, Manuel Blum, Nicholas Hopper and John Langford of Carnegie Mellon University.
Thumbnail, Miniaturiser une image en php(thumbnail) Note : 4/5 (0 vote) Derniéres modifications : 21/03/2009 à 09:02:04 Mots-Clés : php thumbnail miniaturiser miniature thumbnail image php redimentionner resize imagecopyresampled proportionnellement redimention proportionnel php thumb Bonjour, Dans ce script je vais vous montrer comment redimensionner des image proportionnellement pour en faire des miniatures. Ça peut être pratique dans un système de forum. Ça permet d'afficher une miniature pour ne pas remplir toute la page avec une seul image. Pour commencer, je vous conseille d'utiliser ce script dans l'upload des images car si vous utilisez directement ce script dans l'affichage des miniatures, et que vous avez un bon nombre de visiteurs, le serveur vas souffrir.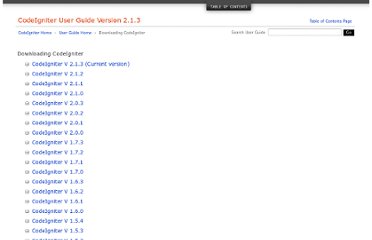 Downloading CodeIgniter Git Server Git is a distributed version control system. Public Git access is available at GitHub . Please note that while every effort is made to keep this code base functional, we cannot guarantee the functionality of code taken from the tip.
Update You can find a more feature rich version of the browser detector in my little PHP toolkit, called Kirby Rafael Lima's CSS Browser Selector in PHP CSS Browser Selector is a very small javascript with just one line php function which empower CSS selectors.