Jquery
asp.net mvc - jQuery upload file using jQuery's ajax method (without plugins)
Traduction de l'article de James Padlosey : Regex Selector for jQuery. il y a quelques temps, j'ai publié un article (traduction) expliquant combien c'était ultimement génial d'étendre les sélecteurs de filtres de jQuery. En partant de ça, voici quelque chose de nouveau : un sélecteur par expressions régulières. les sélecteurs (CSS 3) d'attributs actuels de jQuery permettent une notation par expressions régulière basique, mais rien qui s'approche de ceci.
Sélecteur RegExp pour jQuery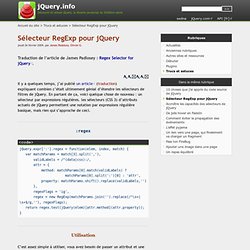 regex - Regular expression field validation in jQuery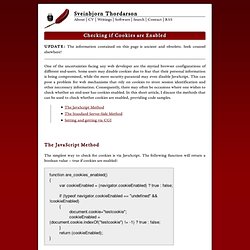 One of the uncertainties facing any web developer are the myriad browser configurations of different end-users.
Checking if Cookies are Enabled | Sveinbjorn Thordarson
grep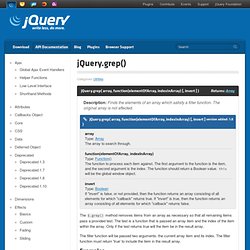 Description: Finds the elements of an array which satisfy a filter function.
Échange d'objets JSON entre PHP et JavaScript, facile grâce à jQuery – Hooba Studios
The following code controls the HTML form beneath it. It uses ajaxForm to bind the form and demonstrates how to use pre- and post-submit callbacks.
jQuery Form Plugin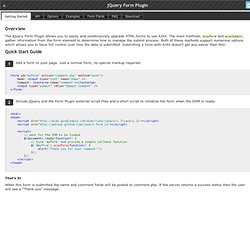 A simple example to select a radio button with jQuery dynamically. A radio buttons group, with a name="sex". <input type="radio" name="sex" value="Male">Male</input><input type="radio" name="sex" value="Female">Female</input><input type="radio" name="sex" value="Unknown">Unknown</input>
How to select a radio button with jQuery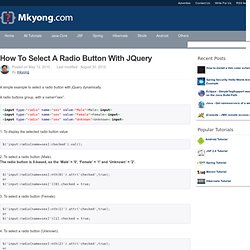 Starting With jQuery - How to Write Custom Validation Rules
This series of posts on using jQuery with no prior knowledge comes to its fifth iteration. Today, I'm going to look more in depth at the Validation Plug-in. We'll be looking at what rules the Validation Plug-in comes with out of the box followed by an example of how to create your own rules.