Design - Typography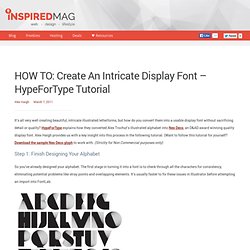 HOW TO: Create An Intricate Display Font - HypeForType Tutorial
It's all very well creating beautiful, intricate illustrated letterforms, but how do you convert them into a usable display font without sacrificing detail or quality? HypeForType explains how they converted Alex Trochut's illustrated alphabet into Neo Deco , an D&AD award winning quality display font. Alex Haigh provides us with a key insight into this process in the following tutorial. (Want to follow this tutorial for yourself? Download the sample Neo Deco glyph to work with.
Web typography is nothing but implementing typography on web page. This is very important in order to identify oneself in the designing world. It is equally important that understanding and implementing typography successfully on your web page. This is an evolution in web designing to stand apart from all other websites. It offers many tips, tutorials, tools, guides and practices to make the better use of web typography. Those are CSS typography tutorials like typo contrast and flow, emphasizing text, snazzy pullquotes for your blog, better CSS font stacks, gradient text effect and types like emphasize on the typeface, using the grid white space balance, size does matter etc.
Ultimate Guide of Web Typography Tutorials, Tips and Best Practices | Tools
For many beginners, the task of picking fonts is a mystifying process. There seem to be endless choices — from normal, conventional-looking fonts to novelty candy cane fonts and bunny fonts — with no way of understanding the options, only never-ending lists of categories and recommendations. Selecting the right typeface is a mixture of firm rules and loose intuition, and takes years of experience to develop a feeling for.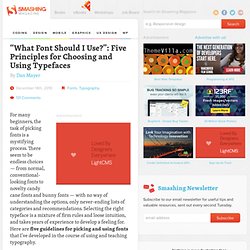 Calligraphie par Claude Mediavilla on Vimeo
Type experiments :: Typography Served