Best wordpress themes
Echo: Clean and Simple WordPress Portfolio Theme Preview
Folioway is a perfect pixel WordPress theme, not only its clean and elegant, it also comes with tons of features like amazing slider, unlimited colors, etc. It's incredibly powerful and flexible and easy to use! It is just the best wordpress theme for your or your company's work presentation! Current Version: 2.0.7 – Version History Features
Folioway - Premium Portfolio WordPress Theme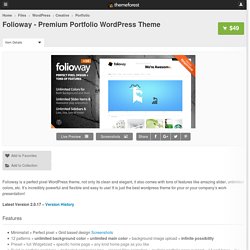 Sense - Semi-liquid Premium Wordpress Theme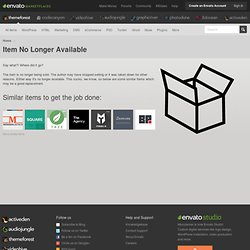 Sense is a Premium Wordpress Theme for Creative \ Portfolio or Blog / Magazine by IulianN. This Theme works perfectly with WordPress Version 3.5 Sense is a minimalist premium wordpress theme design , great choice for you or for your client, can be used for every type of site. Portfolio – very simple to use but very complex, with 3 page templates all Filterables, two of theme with pagination. Gallery – the same but more simple, becouse don't have a single page ( you only need to add a title, the image and add a category for filter, with 3 page templates all Filterables, two of theme with pagination. News – If you use the Blog to offer something for free / etc., you need a page were you can add news, and this custom post type is perfect, for you or for your client.
Gridlocked is a grid-based, post-format supporting, layout-shuffling, minimalistic theme for creatives. It is both a classic portfolio for showcasing your work and a modern tumblr-style blogging system. A truly versatile theme, Gridlocked can be configured to focus on your work, your blogging, or both. Support for post formats means you can jazz up your blog with your own self-hosted video, audio, images, galleries, asides, links, quotes and of course good old standard posts. Testimonials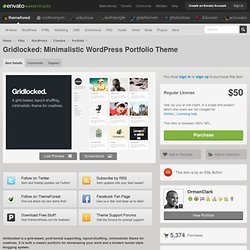 Gridlocked: Minimalistic WordPress Portfolio Theme
Folio Two is an advanced portfolio, a practical and usable template designed with HTML5 + CSS3 and using jQuery to enhance an awesome user experience. This template is a powerful tool based on RESPONSIVE DESIGN, adaptive to any type of device. The screen size will not be a problem to show your favorite works. The gallery, for example, was developed exclusively for this template, will be adapted to display each work maximizing the visible space. Also, if you are a DRIBBBLE fan you will can show through your portfolio your latest shots or configure it as you like more…players, followers, drafts… Just select your best works and begins to show your talent!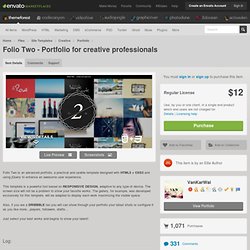 Site Templates - Folio Two - Portfolio for creative professionals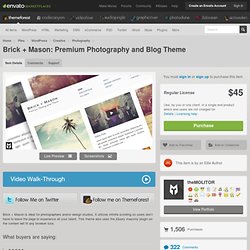 Brick + Mason: Premium Photography and Blog Theme
Brick + Mason is ideal for photographers and/or design studios. It utilizes infinite scrolling so users don't have to leave the page to experience all your talent. This theme also uses the jQuery masonry plugin so the content will fit any browser size.