Musique Contemporaine
Website Last Updated: 16:00 BST, Wednesday 2nd April 2014. This website © Copyright K.M. Whitehouse 2008, 2009, 2010, 2011, 2012, 2013, 2014. "any questions?" DISCLAIMER: Although authorisation has been given to create this website, it operates completely independent from ZTT Records Limited and the owners of China Records Limited.
The Art of Noise (en)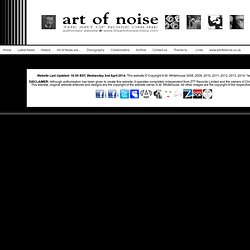 Kate Bush (en)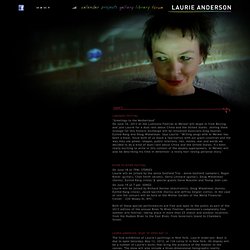 Laurie Anderson (en)
"Greetings to the Motherland" On June 16, 2013 at the Luminato Festival Ai Weiwei will skype in from Beijing and join Laurie for a dual rant about China and the United States. Joining them onstage for this historic exchange will be renowned musicians Greg Saunier, Eyvind Kang and Doug Wieselman. Says Laurie: "Writing songs with Ai Weiwei has been a blast. Since both of us share a fascination with our giant countries and the way they use power, images, public relations, lies, money, war and words we decided to do a kind of duet/rant about China and the United States. It's been really exciting to write in this context of the double superpowers. Ai Weiwei will also be describing his time in detention- a really hair raising personal story."
Jean-Philippe Goude
Sound Score & Processing by David Van Tieghem (based on Bach's English Suites) "FROST PALACE" - Choreographed by Hilary Easton Commissioned for Hilary Easton & Dancers, 2002 Music by David Van Tieghem "BLOOD CHERRIES" - Choreographed by Dawn Saito Commissioned for Dawn Saito, 2002 Music by David Van Tieghem ** PAST THEATER EVENTS ** "RECKLESS" - by Craig Lucas, directed by Mark Brokaw On Broadway at the Biltmore Theatre, NYC Starring Mary-Louise Parker,Rosie Perez and Michael O'Keefe Original Music and Sound Design by David Van Tieghem "THE GOOD BODY"- written and performed by Eve Ensler, directed by Peter Askin On Broadway at the Booth Theatre, NYC Original Music by David Van Tieghem Sound Design by David Van Tieghem and Jill B C Du Boff
David Van Tieghem (en)
Patrick O'Hearn (en)
Dark Star magazine is the longest-running Mike Oldfield pubilcation and has grown to be the preferred printed source for all the best information on Mike Oldfield. The magazine contains a varied mixture including news, comment, reviews, artwork, photographs and lyrics - in fact anything and everything to do with Mike Oldfield! Dark Star is a not for profit organisation run by unpaid volunteers in their spare time. All official news and related information will be posted on our website as soon as it is available and confirmed as fact by Mike Oldfield or his organisation.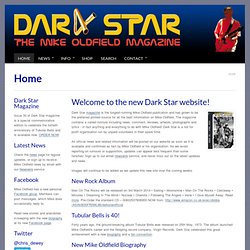 Mike Oldfield (en)
Mike Oldfield Tubular.net (en)
We've had an exclusive announcement from Virgin EMI about Mike's next album, which includes plans for a premiere concert: Following Sir Richard Branson's announcement yesterday of Virgin Buildings, where Branson revealed that he had his sights set on the moon, Virgin EMI is proud to announce that Mike Oldfield will be supporting Branson's ambitions with a new album and a spectacular live performance. Called TB-0, the album will reflect on Mike's contribution to Virgin's space ventures, referring back to his classic debut album, Tubular Bells, which kick-started the Virgin empire.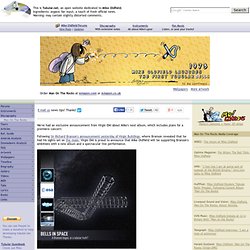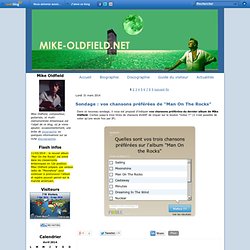 Mike Oldfield (Nicolas)
Cette année 2013 est celle du 60e anniversaire de Mike Oldfield (le 15 mai) et du 40e anniversaire de la sortie de Tubular Bells (le 25 mai). Pour marquer l'évènement, l'équipe du magazine Dark Star a organisé le 6 juillet une convention de fans de Mike Oldfield dans la ville de Reading où Mike Oldfield a vu le jour il y a 60 ans. L'évènement a eu lieu dans un café du campus de l'université de Reading, tout au long de l'après-midi du samedi 6 juillet, sous un soleil radieux. Les portes ont ouvert à 12h00. Ventes d'objet de collection, de merchandising Dark Star ou de disques de Terry Oldfield ont commencé dès l'ouverture.