HTML5
01.- Curso de HTML 5. Introducción.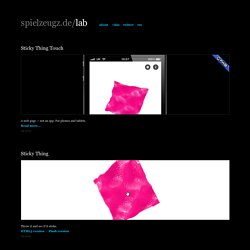 Sticky Thing Touch Sticky Thing iPhone Experiments Space Noodles Liquid Particles 3D The particles trapped in a wormhole discoball. Takes some practice to control. Launch 06-2010 Comparison Technical study, comparing rendering performance. Overview 04-2010 Liquid Particles Hello,
lab
This document is a strict subset of the full HTML5 specification that omits user-agent (UA) implementation details. It is targeted toward Web authors and others who are not UA implementors and who want a view of the HTML specification that focuses more precisely on details relevant to using the HTML language to create Web documents and Web applications. Because this document does not provide implementation conformance criteria, UA implementors should not rely on it, but should instead refer to the full HTML5 specification .
HTML5: Edition for Web Authors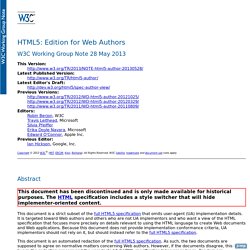 HTML5
Introducción a HTML5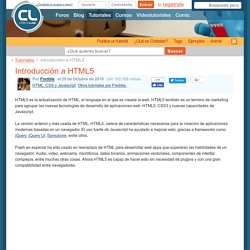 HTML5 es la actualización de HTML, el lenguaje en el que es creada la web. HTML5 también es un termino de marketing para agrupar las nuevas tecnologías de desarrollo de aplicaciones web: HTML5, CSS3 y nuevas capacidades de Javascript. La versión anterior y más usada de HTML, HTML4, carece de características necesarias para la creación de aplicaciones modernas basadas en un navegador. El uso fuerte de Javascript ha ayudado a mejorar esto, gracias a frameworks como jQuery , jQuery UI , Sproutcore , entre otros. Flash en especial ha sido usado en reemplazo de HTML para desarrollar web apps que superaran las habilidades de un navegador: Audio, video, webcams, micrófonos, datos binarios, animaciones vectoriales, componentes de interfaz complejos, entre muchas otras cosas. Ahora HTML5 es capaz de hacer esto sin necesidad de plugins y con una gran compatibilidad entre navegadores.
Tutorial de HTML 5 de Armando Sosa