curation
Get flash to fully experience Pearltrees
Real-Time News Curation: Part 6 - The Tools and Technologies In this part of the guide you will find: 1. A Brief History of News Curation Tools 2. The 15 Basic Traits of a News / Content Curation System
March 31, 2011 | 26 Comments Curation has always been an underrated form of creation. The Getty Center in Los Angeles is one of the most frequently visited museums in America – and started as a private art collection from one man (J. Paul Getty) who had a passion for art. Aside from a few well known examples like this one, however, the term curation has rarely been used outside of the world of art … until now. One of the hottest trends in social media right now is content curation – thanks in no small part to the leading efforts of several thought leaders actively promoting the idea.
One of the best definitions of a content curator that I have found is in Rohit Bahargava's Manifesto for the Content Curator: The Next Big Social Media Job of the Future . In his 2009 post Bahargava offered this description of content curators: To satisfy the people's hunger for great content on any topic imaginable, there will need to be a new category of individual working online. Someone whose job it is not to create more content, but to make sense of all the content that others are creating.
The thing that amazes me most when it comes to what is supposedly "news and content curation" on platforms like Scoop.it, is that some of the most popular and trafficked channels have nothing to do with curating a topic for a specific audience. Why? Because if you look at the supposed "curation" done on these channels, it is nothing but simple and often very superficial picking and unrestrained sharing of links with absolutely no concern for checking, verifying or let alone reading what is being posted. This is how I long lost trust for many such curators. Because they are literally doing the opposite of what a true content curator should do: vet, verify, analyze, explore, check, add, inform, contextualize and reference.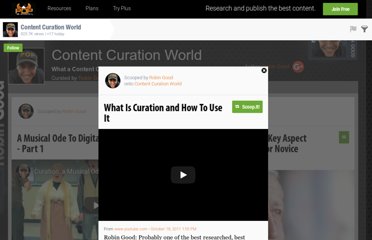 Currently, I am exploring digital content curation and have been searching out visually interesting curation tools. I initially started with Vodpod as a way of curating all the audio-visual material I stumbled upon. Vodpod is very effective for collecting videos and following the video collection streams of other collectors. You can collect videos from others that are of interest and others can collect from you. It is also a great place to store the gems you find.