Excercize
Drop serious pounds and sculpt sexy curves with Insanity, the DVD craze that lives up to the hype. The magic behind the routine comes from plyometrics: explosive, full-body exercises that rev your heart rate and ratchet up metabolism to torch megacalories and build lean muscle. We asked Insanity creator Shaun Thompson for his top multitasking moves to help you get an insane body in only 20 minutes. You'll need: Zilch. Unless you count a wardrobe of size-smaller clothes. The plan: Do each sizzler for 1 minute without stopping between exercises.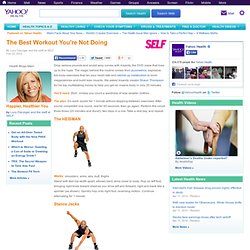 The One Hour a Week Workout
Everyone knows exercise plays an important role in our general health, but whether its a lack of motivation, the need to travel to the gym, the cost of equipment, or simply know-how, these supposed obstacles often stand in our way. In reality, all you need is yourself. Here's how you can get a full-body workout with nothing but your body. Note: To be clear, some of the exercises we'll be discussing in this post will require more than just you. For example, you might need to borrow a table in your home or place your feet underneath the couch.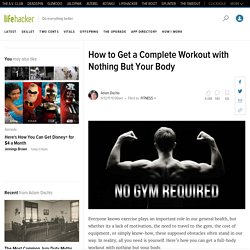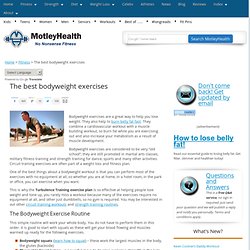 Bodyweight exercises are a great way to help you lose weight. They also help to burn belly fat fast. They combine a cardiovascular workout with a muscle building workout, so burn fat while you are exercising out and also increase your metabolism as a result of muscle development. Bodyweight exercises are considered to be very "old school", they are still promoted in martial arts classes, military fitness training and strength training for dance, sports and many other activities. Circuit training exercises are often part of a weight loss and fitness plan.