Musique
Alt-J - Left Hand Free (Official Video) 1. Seasick Mama - Man Overboard. Movement : clip très, très, très cul pour "Ivory" Ellie Goulding - Lights [MetroGnome Remix] 100 morceaux sortis en 2014 à écouter cet été. Only Real / Cadillac GirlCléa Vincent / Retiens Mon DésirPharrell feat Jay Z / Frontin (Disclosure Remix)Jack White / LazarettoFrànçois And The Atlas Mountains / La Fille Aux Cheveux de SoieDamon Albarn / Heavy Seas Of LoveThe Weeknd / King Of The FallWilliam Onyeabor / Atomic Bomb (Hot Chip Remix)Caribou / Can't Do Without YouGesaffelstein / Hate Or Glory (Gesaffelstein Remix)Sean Nicholas Savage / NaturallyBonnie Banane feat Waltaa / Champs ElyséesTheophilus London feat Blood Orange / Figure It OutMac DeMarco / Chamber Of ReflectionThe Knife / Whithout You My Life Would Be Boring (Shaken Up Version)Darius / EspoirBagarre / Mourir Au ClubTodd Terje / Delorean DynamitePerez / Une Autre FoisDamaged Bug / Eggs At NightBeyoncé feat Kanye West & Jay Z / Drunk In Love (Remix)J Mascis / Every MorningCymbals / The EndChristine And The Queens / iTTame Impala / Stranger In Moscow >> A lire aussi : Top 10 des tubes de l'été 2014.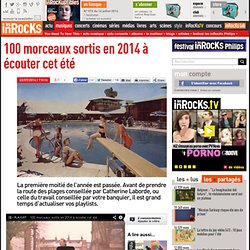 The Nostalgia Machine. Jeff Buckley - Everybody Here Wants You (Documentary) BBC Radio 4 - The Grace of Jeff Buckley. Wardruna @ Djupvika, Trondheim (19.06.14) - Aftermath Music Norway. SoundCloud - Hear the world's sounds.
Andy McKee - Guitar - Drifting - www.candyrat.com. Concert a emporter. MyTaratata.com. La Blogothèque.
---