Kony 2012
KONY 2012. The Problems with 'Stop Kony' - Global. Joseph Kony is an awful human being, and thanks to the charity Invisible Children, you may already know that by now.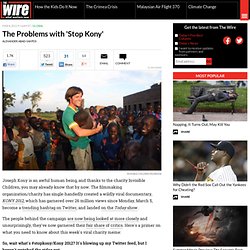 The filmmaking organization/charity has single-handedly created a wildly viral documentary, KONY 2012, which has garnered over 26 million views since Monday, March 5, become a trending hashtag on Twitter, and landed on the Today show. The people behind the campaign are now being looked at more closely and unsurprisingly, they've now garnered their fair share of critics.
Le projet Kony 2012. Depuis quelques jours, une vidéo se propage comme une traînée de poudre aux Etats-Unis.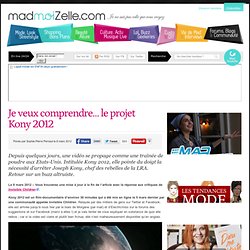 Intitulée Kony 2012, elle pointe du doigt la nécessité d'arrêter Joseph Kony, chef des rebelles de la LRA. Retour sur un buzz altruiste. Le 8 mars 2012 – Vous trouverez une mise à jour à la fin de l'article avec la réponse aux critiques de Invisible Children.
---