Easter
Not martha - to make: papier-mache easter eggs - StumbleUpon. For Easter I made papier-mache polka dotted eggs.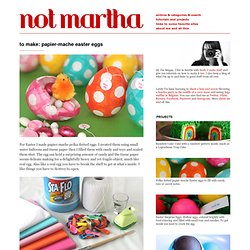 I created them using small water balloons and tissue paper then I filled them with candy and toys and sealed them shut. The egg can hold a surprising amount of candy and the tissue paper seems delicate making for a delightfully heavy and yet fragile object, much like real egg. Also like a real egg you have to break the shell to get at what's inside. I like things you have to destroy to open. How To Create Paper Blossoms | Apartment Therapy DC - StumbleUpon. Previous image Next image We've talked about using paper decorations to punch up a last minute party, but there are ways that you can incorporate paper into your everyday décor as well.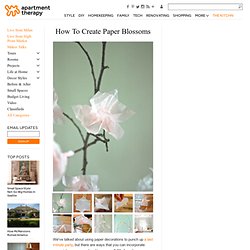 My favorite paper creations of late are tissue paper cherry blossoms, which are as pretty as they are easy to make.A few weeks ago I was charged with the task of decorating a ballroom for my daughter's school auction. The theme was cherry blossoms, and the result was magical…and budget friendly too! DIY Mothers Day Corsage: Felt Dahlia Flower Brooch - Holidash News - StumbleUpon.
Spring Scrapbook Paper Tree. Hello fellow crafters!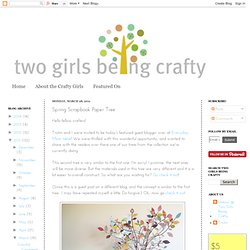 Tristin and I were invited to be today's featured guest blogger over at Everyday Mom Ideas! We were thrilled with this wonderful opportunity, and wanted to share with the readers over there one of our trees from the collection we're currently doing. This second tree is very similar to the first one. I'm sorry! I promise, the next ones will be more diverse. A Wordy Egg - Beyond Beyond | Beyond Beyond. Over in Beyond Beyond towers we have one weakness, of the Achilles Heal variety and it is eggs.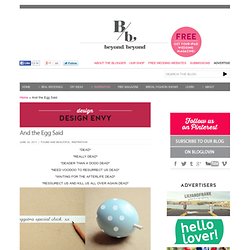 Scrambled, poached, sunny side up, boiled – whatever way you can imagine them we have had them in all the many fangled ways that you can imagine! What we have never had is an invitation in an egg and this exploded our minds not even blew them.
---