Tegan And Sara
Canal de teganandsaramusic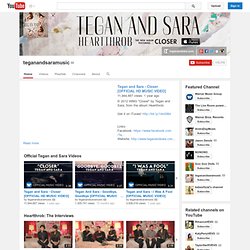 Carpool Confessional We are back in the studio recording our new album and we're filming a TV show in the back of our car as we drive to and from the studio the entire time! For the next 8 weeks or so we'll be posting an episode of the show every Tuesday! So come back weekly to stay up to date.
Northshore - Official Music Video
We're so excited to announce that we'll be performing at WorldPride 2014 – Toronto on June 29! We attended our first Toronto Pride in 1999! YUP – we're THAT old! Since then we have had the pleasure of celebrating Pride in Toronto with friends too many times to count. But this year is extra special! It's WORLD Pride in Toronto!
saraandtegan