Tegan And Sara
Canal de teganandsaramusic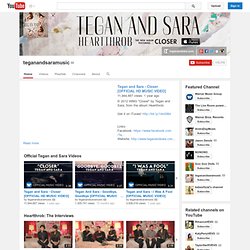 Carpool Confessional We are back in the studio recording our new album and we're filming a TV show in the back of our car as we drive to and from the studio the entire time! For the next 8 weeks or so we'll be posting an episode of the show every Tuesday! So come back weekly to stay up to date.
Northshore - Official Music Video
Hello! As long time fans of Katy Perry we are overjoyed to be joining her on the 3rd leg of her North American tour. When I was writing Heartthrob I went to the movies and saw Part Of Me in 3D (The Katy Perry movie). The thing that struck me most while watching it was how devoted and diverse her audience was. They loved Katy not only for her music but because she made them feel like they could be who ever they wanted to be. I love that Katy manages to stay true to herself, her fans and her music even as she has become one of the biggest artists of our time.
saraandtegan