Dream Houses
Vacation Rentals, Beach House Rentals, Villa Rentals and Holiday Rentals.
Image Courtesy of Ricardo Bofill Architect: Ricardo Bofill Program: Architectural offices /archives /model laboratory /exhibition space /Bofill's-apartment /guest rooms /gardens Location: Barcelona, Spain Total floor area: 3,100 square meters and gardens House area: 500 square meters Date Completed: 1975 T here is nothing as good as an aged bottle of wine; and in this case the aged bottle of wine is a project which was completed in 1975 , but is still worth mentioning! First and foremost we would like to thank our friend and founder of Room Service design store in Greece, Katerina Xynogala for providing us with the necessary information regarding The Cement Factory , which is featured in the latest Room Service catalogue . The Cement Factory was discovered in 1973, it was an abandoned cement factory and partially in ruins, comprised of over 30 silos, underground galleries and huge engine rooms; Ricardo Bofill bought it and began renovation works.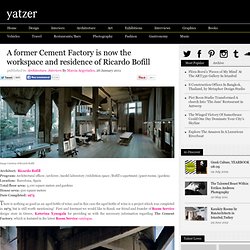 The Tangga House is another Singapore's dream home designed by Guz Architects . Completed in 2009, the 7,663 square foot residence is located in Holland Village, an elite district of Singapore that is famous amongst the expatriate community. The luxury single-family home gives the owners the opportunity to live in harmony and comfort with nature, in Singapore's hot tropical climate. Tangga House by Guz Architects: "The house is a contemporary interpretation of a traditional courtyard house, laid out around a central green courtyard with a double height stair and entry area forming the focal point of the project. The L-shaped plan creates open spaces which encourage natural ventilation and offer resident's views over the courtyard to the veranda, roof gardens and beyond.