Role Playing
DM Olacak Adam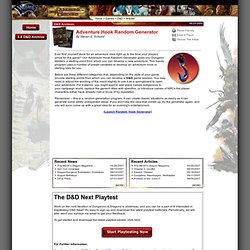 Ever find yourself stuck for an adventure idea right up to the time your players arrive for the game? Our Adventure Hook Random Generator gives you Dungeon Masters a starting point from which you can develop a new adventure. This handy program uses a number of preset variables to develop an adventure hook or starting idea for you.
Adventure Hook Random Generator
Most Dungeon Masters and players enjoy the process of creating a history or background story for their characters. In fact, the Hero Builder?s Guidebook features an extensive chapter on creating backgrounds for your PCs.
NPC Background Generator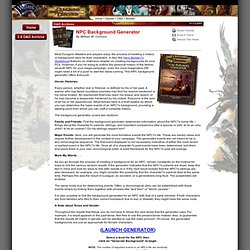 Character Name Generator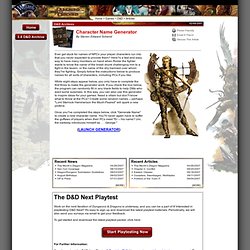 Ever get stuck for names of NPCs your player characters run into that you never expected to provide them?
Random Tavern Generator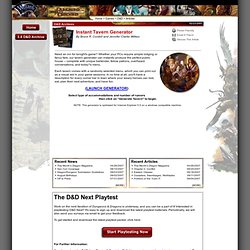 Need an inn for tonight's game?
Dragon Magazine celebrates its 25th anniversary this month, and we think everyone deserves a dragon!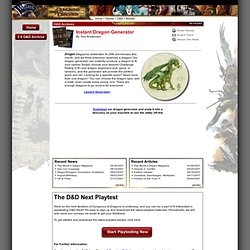 Instant Dragon Generator
If we've learned one thing from video games, arguable it's this: smash open every container you come across and see what's hidden inside. And when it comes to role-playing games, PCs invariably come across a numberless amount of such containers, stored within tavern basements, temple backrooms, and the dusty corners of ancient dungeons.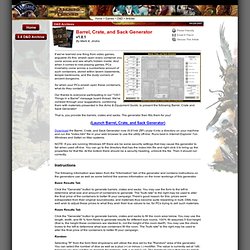 Barrel, Crate, and Sack Generator (v1.0.1)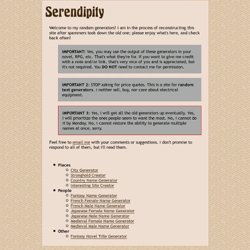 Welcome to my random generators! I am in the process of reconstructing this site after spammers took down the old one; please enjoy what's here, and check back often! IMPORTANT: Yes, you may use the output of these generators in your novel, RPG, etc.
Serendipity
Wizards of Istanbul
Community
Community Forums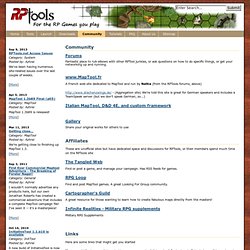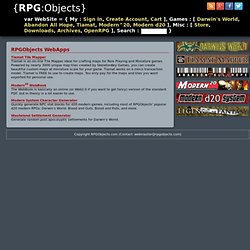 RPGObjects WebApps Tiamat Tile Mapper Tiamat is an on-line Tile Mapper ideal for crafting maps for Role Playing and Miniature games.
RPGObjects
Seventh Sanctum
Dungeons & Dragons Roleplaying Game Official Home Page - Tool (D&D Character Builder)
deneme
Campaigns