Spyw
The new Google "Search Plus Your World" feature — which I'm now simply calling "Search Plus" — has just gone live for me. Huge debate erupted yesterday over whether it somehow favors Google+. I can see now that it clearly does, even more than I thought. Here's a closer look at the changes, including how they turn Google+ into an essential social network for any search marketer. Even Signed Out, Google+ Suggestions Offered
Real-Life Examples Of How Google's "Search Plus" Pushes Google+ Over Relevancy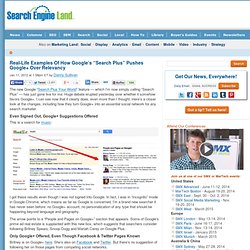 It amazes how stupid the so-called Blogosphere and world of pundits are - when it comes to Google, Google+ and their intentions. Is it that you just didn't hear what we've been trying to say about Google+? Is it something about the air you're breathing or water you're drinking?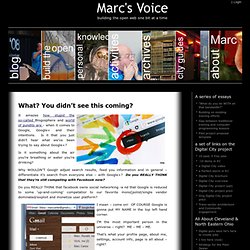 Marc's Voice » What? You didn't see this coming?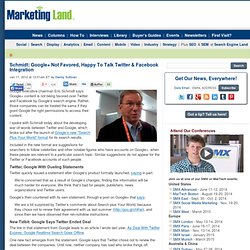 Schmidt: Google+ Not Favored, Happy To Talk Twitter & Facebook Integration
Google executive chairman Eric Schmidt says Google+ content is not being favored over Twitter and Facebook by Google's search engine. Rather, those companies can be treated the same if they grant Google the right permissions to access their content. I spoke with Schmidt today about the developing war-of-words between Twitter and Google, which broke out after the launch of Google's new "Search Plus Your World" format for its search results. Included in the new format are suggestions for searchers to follow celebrities and other notable figures who have accounts on Google+, when these people are relevant to a particular search topic. Similar suggestions do not appear for the Twitter or Facebook accounts of such people.
As Deal With Twitter Expires, Google Realtime Search Goes Offline
Yesterday, we reported that Google Realtime Search had mysteriously disappeared. Today comes the reason why: Google's agreement with Twitter to carry its results has expired, taking with it much of the content that was in the service with it. Google sent us this explanation: Since October of 2009, we have had an agreement with Twitter to include their updates in our search results through a special feed, and that agreement expired on July 2. While we will not have access to this special feed from Twitter, information on Twitter that's publicly available to our crawlers will still be searchable and discoverable on Google. Google also stressed that went Google Realtime Search relaunches — something it says will happen but with no set time frame — it will include content from a variety of sources and not just be solely devoted to Google+ material.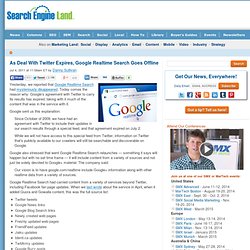 A privacy watchdog group probably will complain to the U.S. Federal Trade Commission that a new Google search feature raises privacy and antitrust concerns. Marc Rotenberg, executive director of the Electronic Privacy Information Center, said his group is considering filing a letter with the FTC.
Google likely to face FTC complaint over 'Search Plus Your World'