Programming
A tutorial covering SQL indexing and SQL tuning for developers: avoiding unnecessary details about database internals. SQL indexing is the most effective SQL tuning method and requires the same care as schema design—yet it is often neglected during development. Use The Index, Luke explains SQL indexing from the source code perspective—covering ORM tools like Hibernate and Doctrine. Use The Index, Luke!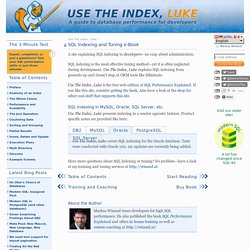 Use The Index, Luke | e-Book about SQL Indexing in Oracle, SQL Server, …
Learning a programming language is easy; becoming adept enough to wield it in an efficient, maintainable manner in a professional setting is a never-ending journey. Despite doing web development almost exclusively in Python for nearly five years, it has only been in the past one to two that I've begun to feel I know both the language and the ecosystem well enough to architect "expert-level" systems consistently. Along this journey, I've gained knowledge and insight from the community that no book could possibly provide.
Keeping Up With The Pythonistas ~ Recursive Dream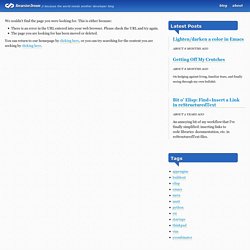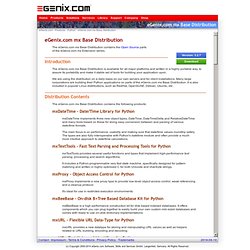 Products: Python: eGenix.com mx Base Distribution
The eGenix.com mx Base Distribution contains the Open Source parts of the eGenix.com mx Extension series. Version: 3.2.7 Introduction The eGenix.com mx Base Distribution is available for all major platforms and written in a highly portable way, to assure its portability and make it stable set of tools for building your application upon. We are using the distribution on a daily basis on our own servers and for client installations. Many large corporations are building their Python applications on parts of the eGenix.com mx Base Distribution.
Loggly | Logging as a Service
Incorporate Swauth into Swift : Blueprints : OpenStack Object Storage (swift)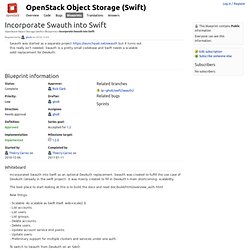 Incorporated Swauth into Swift as an optional DevAuth replacement. Swauth was created to fulfill the use case of DevAuth (already in the swift project). It was mainly created to fill in DevAuth's main shortcoming: scalability.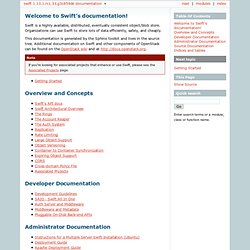 Swift is a highly available, distributed, eventually consistent object/blob store. Organizations can use Swift to store lots of data efficiently, safely, and cheaply. This documentation is generated by the Sphinx toolkit and lives in the source tree. Additional documentation on Swift and other components of OpenStack can be found on the OpenStack wiki and at http://docs.openstack.org. Note
Welcome to Swift's documentation! — Swift v1.1.0 documentation
– BLiNQ Media, a Social Engagement AdvertisingSM company and the pioneer of performance-driving CPSASM (Cost per Social ActionSM), announced today the acquisition of Atlanta-based Charles Lumpkin + Partners, an online media planning and buying company specializing in search marketing, performance display, mobile and social media advertising. Charles Lumpkin, founder of Charles Lumpkin + Partners, will take on the role of Vice President of Media at BLiNQ Media. Lumpkin will oversee all media services for BLiNQ Media and help lead the strategic development of the BAM (BLiNQ Ad Manager) system. His technology background and experience working with fast-growth entrepreneurial ventures and Fortune 500 companies will be an asset to BLiNQ Media and its customers.
CharlesLumpkin.com
travisswicegood.com
Most of you who know me have heard me talk about Armstrong, the open-source news platform that I helped create when I first joined the Texas Tribune. I have and continue to talk at length about Armstrong and its future, but I've never collected those thoughts into one cohesive document outlining how we got to where we are now, what the current state of the project is, and where I hope to see it go. This post is my attempt to do that.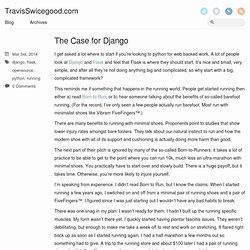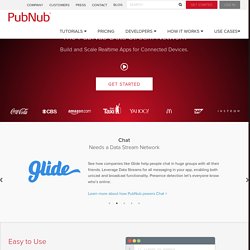 The PubNub Real-Time Network powers thousands of apps, streaming more than 3 million messages a second to over 100 million devices a month. Financial Stream equity: 'ORCL', price: 32.45, change: -.04