Recipes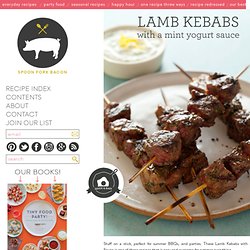 Stuff on a stick, perfect for summer BBQs, and parties. These Lamb Kebabs with a Mint Yogurt Sauce is one of those recipes that is easy and awesome for summer everything. Lamb Kebabs with a Mint Yogurt Sauce Serves: 4
Lamb Kebab Recipe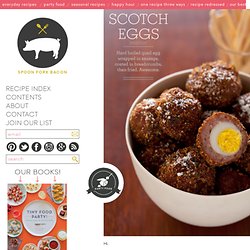 Scotch Egg Recipe
Hi.
Spinach and Ricotta Stuffed Shell Recipe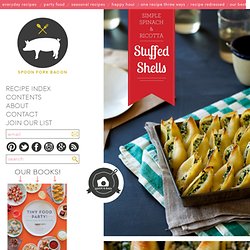 There's nothing better then making a big batch of stuffed shells and feeding friends. Do it.
Simple delicious pasta.
Pappardelle Pasta with a Roasted Cherry Tomato Sauce Recipe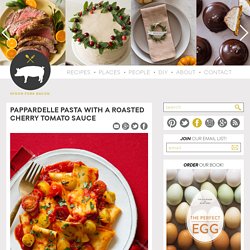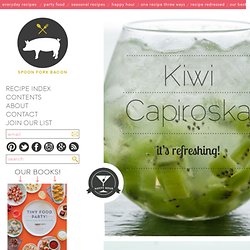 I had this drink for the first time 7 years ago in Salvador, Brazil. A capiroska is pretty much caipirinha's less popular little sister.
Kiwi Capiroska Cocktail Recipe
This is a recipe where figs, goat cheese, and caramelized onions totally fall in love with each other while tucked into a flaky puff pastry shell.
Fig Tart with Carmedlized Red Onion Recipe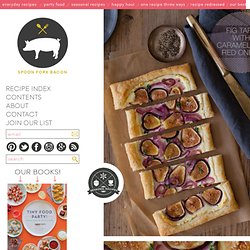 Hi! (you can't tell, but I'm furiously waving at you all with a really huge, borderline creepy smile on my face!)
Spicy Blood Orange Champagne Punch Recipe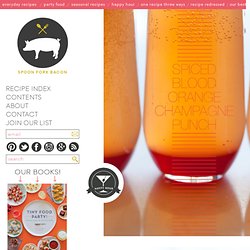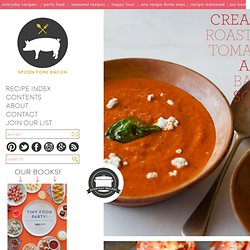 Hi All! The very first time I had REAL tomato-basil soup for the first time at The Noodle Cafe when I was about 12 or 13.
Creamy Roasted Tomato & Basil Soup recipe
Risotto is one of my favorite foods. EVER. I love it so much because it's so easy to make and you can add all kinds of things to it.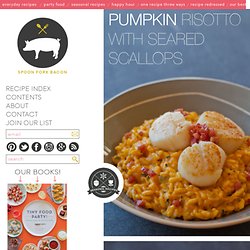 Pumpkin Risotto with Seared Scallops
Kabocha Ravioli with a Toasted Hazelnut Cream Sauce recipe
Happy Humpday! To continue our week of winter squash we present you all with this….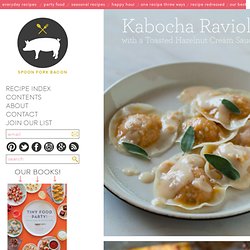 Maple Glazed Roasted Acorn Squash recipe
Every holiday season it seems like butternut squash (yum!)
Kimchi Fried Rice recipe
Hi Everyone!
So I've had a really busy couple of weeks, well more like a really busy couple of months…and you know what?
Galbi Jim. Korean Style Braised Short Rib Stew recipe.
Baked Egg Boat recipe
Breakfast is my favorite meal.
It's Friday…yay! So I know I said that we would be jumping into our Super Bowl fry fest next week, but we got a little excited and couldn't resist starting a little early….enter baby chimichangas. These little beauties are pretty great; small pockets of fried goodness with a creamy Sriracha-lime dipping sauce.
Baby Chimichanga recipe
home fries
almond-vanilla rice pudding
squash and chickpea moroccan stew
mushroom bourguignon
whole lemon tart
cream cheese pound cake + strawberry coulis
watermelon lemonade
cantaloupe salsa
melon agua fresca
nectarine galette
cauliflower with almonds, raisins and capers
raisin-studded apple bread pudding
spicy caramel popcorn
walnut pesto
ricotta muffins
arroz con leche (rice pudding)
rustic rhubarb tarts
strawberry-rhubarb pie, improved
thai-style chicken legs
raspberry limeade slushies
eggplant salad toasts
perfect blueberry muffins
single-crust plum and apple pie
sweet potatoes with pecans and goat cheese
roast chicken with dijon sauce
meatball subs with caramelized onions
crispy potato roast
vermontucky lemonade
strawberry summer cake
sugar plum crepes with ricotta and honey
roasted eggplant with tomatoes and mint
cumin seed roasted cauliflower with yogurt
pear cranberry and gingersnap crumble
carrot soup with miso and sesame
Italian Risotto Rice Salad
Rolo Cookies
Warm Milk-Chocolate Croissant-Bread Pudding
Strawberry and Mascarpone Pound Cake
Weeknight Chicken Stir-Fry
Honey Yogurt Panna Cotta with White Peach Puree
Chai Spiced Apple Cake
Peach and Basil Salad
The Darjeeling Darling
Big Apple
General Tso's Chicken
Iced Peppermint Green Tea
Homemade Oreos with Chocolate Beer Ganache
Strawberry-Amaretto Champagne Cocktail
Cookie Dough Truffles
Spicy Shrimp Sandwich with Chipotle Avocado Mayonnaise
Limoncello
Fashionably Bombed: Mojito Monday: Strawberry & Ginger
Chocolate Chip Coffee Cake
Lemon Chicken Spaghetti Toss
Homemade Baileys
Lamb's Wool
Peppermint Bark Brownies
Carrot Cake Cookies