12-18-2010
025.431: The Dewey blog
The September 6 Science has an article entitled "Boxed In," which has this summary: You'd think physicists would be delighted. In cosmology, satellite observations of the universe repeatedly confirm scientists' picture of its composition and history. In particle physics, the discovery of the Higgs boson and measurements of its properties give equally compelling evidence that their "standard model" of elementary particles and force-generating symmetries explains everything it's supposed to. And that's the problem: It's hard to develop new and better models when the old ones stubbornly refuse to break down. To keep progress from grinding to a halt, physicists are devising ingenious new experiments aimed at shooting holes in their reigning theories—but no one knows which of them, if any, will hit the mark.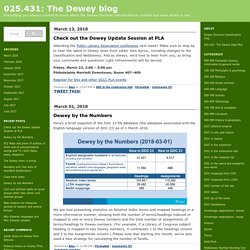 A Classification and Subject Index for Cataloguing and Arranging the Books and
A helper number is an identification number that allows someone to use FamilySearch.org on behalf of someone else. People who already have an account on FamilySearch.org can see or edit their helper number in settings. Note: Members of The Church of Jesus Christ of Latter-day Saints have a default helper access number, which is the last 5 characters of their membership record number. You can use this default number to help Church members who do not have LDS Accounts.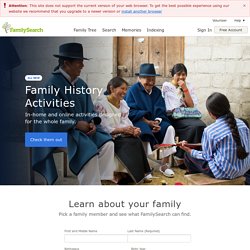 Jane Park, November 22nd, 2010 The British Library by stevecadman / CC BY-SA The British Library has released three million records from the British National Bibliography into the public domain using the CC0 public domain waiver.
The British Library releases 3 million bibliographic records into the public domain using CC0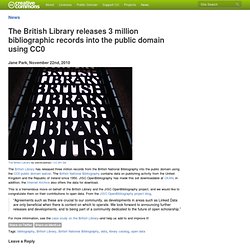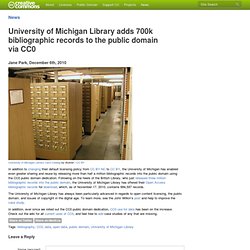 Jane Park, December 6th, 2010 University of Michigan Library Card Catalog by dfulmer / CC BY In addition to changing their default licensing policy from CC BY-NC to CC BY, the University of Michigan has enabled even greater sharing and reuse by releasing more than half a million bibliographic records into the public domain using the CC0 public domain dedication.
University of Michigan Library adds 700k bibliographic records to the public domain via CC0
The National Archives is more than just the National Archives Building in Washington, DC. Our holdings are located in a nationwide network across the United States. Our Regional Archives and the Presidential Libraries provide a glimpse into the history of our country through documents, photographs and artifacts found only in their unique holdings. Other states not listed: We have listed only those states with specific resources or programs. Please check back to see if new resources have been added for your state, or please contact the education staff of the nearest Regional Archives location for more information.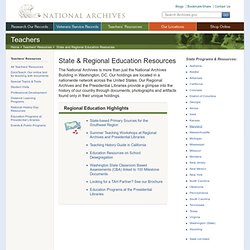 State and Regional Education Resources