11-18-2010
Thomas Dowling's blog | TechEssence.info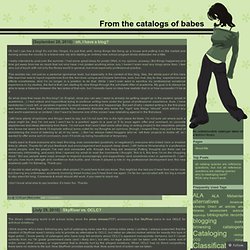 Man, I had a great segue of posts lined up for this week, with ideas that flowed into and built on one another, and then Donald A. Barclay had to go and write this. It's an article from American Libraries magazine (the online edition–I didn't see it in the print issue) called "The Myth of Browsing," and it purports that browsing the physical stacks should not be a priority in the contemporary academic library. And with all due respect, I say "bull sh*t." Barclay offers a number of reasons why browsing need not be supported.
From the catalogs of babes
Future4catalogers' Blog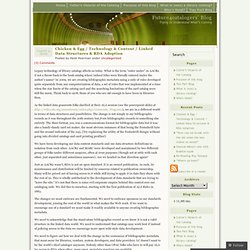 In an October 11, 2007 AUTOCAT discussion, James Weinheimer said, "Part of fitting into the larger world of metadata will mean that we will have less control over many things, and our terminology will probably be one of the first casualties. Ultimately, I think it will turn out to be one of the easier things we will have to give up." Hal Cain responded, "I find it utterly perplexing that RDA is being prepared for cataloguers, its primary audience, yet with no attempt to produce any consensus about the terms in which it is to be expressed; indeed, with no reasonable attempt to explain how the new vocabulary agrees with or differs from the old.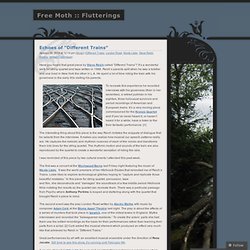 Free Moth :: Flutterings
Code4Lib North Meeting at Ryerson I attended my first Code4Lib North conference this past week, something I've never quite felt "geeky" enough to do in the past. This year an implicit invitation to technical services librarians encouraged us non-coding types to participate. The result produced a gathering rather similar to what I've experienced at Access conferences. Kudos to the folks at Ryerson for hosting and putting on such a well-organized event. It was great to meet and learn from participants from the local and regional community and the unconference/unthemed style worked very well.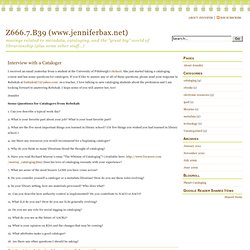 Z666.7.B39 (www.jenniferbax.net)
In a world where funding is decreasing and demand is increasing, libraries and librarians are looking for ways to provide access to content without submitting their bottom line to costly and sometimes little-used online journal subscriptions. The ALCTS CCS Electronic Resources Interest Group invites you to attend its panel discussion "Pay-Per-View Options: Is Transactional Access Right For My Institution?" on Saturday, July 11, 2009, from 10:30 a.m.-12:00 p.m, Chicago Hilton, Continental Ballroom B. The discussion will center on the experiences of libraries and publishers as they implement and manage transactional access models at their institutions.
Posted on January 5th, 2012 Lukas Koster 2011 has in a sense been the year of library linked data. Not that libraries of all kinds are now publishing and consuming linked data in great numbers. No.
CommonPlace.Net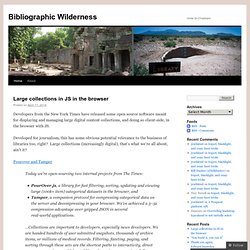 Bibliographic Wilderness
So in our Blacklight-based catalog, we have a facet/limit for "Location", that is based on the collection/location codes from holdings, and is meant to limit to just items held a particular sub-library of our Hopkins-wide system. We've gotten a new requirement, which is that when you've limited to any of these location limits (for instance, only items in the "Milton S. Eisenhower Library"), the result set should also include all 'Online' items. No matter what Location limits you've applied, the result set should always include all Online items too. (Mine is not to reason why…).
Cataloging thoughts
The invention of internet and its use in the workplace has been, for the most part, both a blessing and a curse. A blessing because it is a wonderful tool of research and for connecting with various sources and professional colleagues. A curse, at least from management's perspective, because it can become a great distraction, taking valuable time away from the drudgery of work, first email, now youtube, facebook and so on.