Social Media Marketing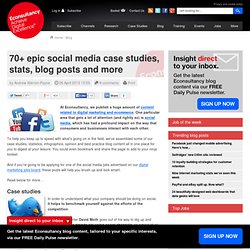 At Econsultancy, we publish a huge amount of content related to digital marketing and ecommerce . One particular area that gets a lot of attention (and rightly so) is social media , which has had a profound impact on the way that consumers and businesses interact with each other.
70+ epic social media case studies, stats, blog posts and more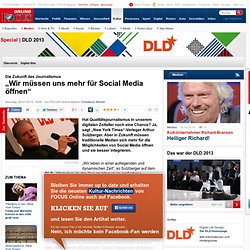 "Wir leben in einer aufregenden und dynamischen Zeit", so Sulzberger auf dem DLD.
Die Zukunft des Journalismus: "Wir müssen uns mehr für Social Media öffnen" - Medien
Facebook And Microsoft Are Working On A Deal, And It Could Change Everything About Advertising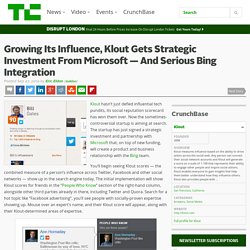 Klout hasn't just defied influential tech pundits, its social reputation scorecard has won them over. Now the sometimes-controversial startup is aiming at search.
Growing Its Influence, Klout Gets Strategic Investment From Microsoft — And Serious Bing Integration
Infographic: Social Gaming Demographics 2012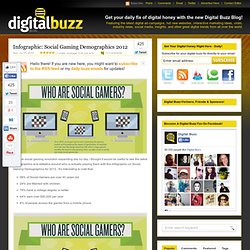 With the social gaming revolution expanding day by day, I thought it would be useful to see the latest demographics and statistics around who is actually playing them with this Infographic on Social Gaming Demographics for 2012.
Will social media mentions replace links?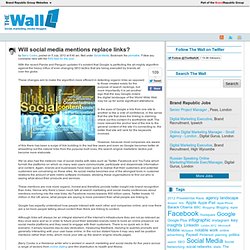 With the recent Panda and Penguin updates it's evident that Google is perfecting the all-mighty algorithm against the heavy influx of ever-changing SEO tactics that are being executed by brands all over the globe.
Starbucks-Logo Das Unternehmen hat mit einem einzigen Tweet eine Welle der Empörung ausgelöst.
Das Twitter-Desaster von Starbucks
As enterprise companies like Salesforce and Oracle continue to sharpen their social media services for enterprises, Twitter is locking arms with one of them in a strategic alliance. Radian6, the social media monitoring service bought by Salesforce in March 2011 for $326 million, has announced that it has signed a strategic alliance with Twitter that gives Radian6 customers "complete access" to Twitter's public tweet firehose of more than 400 million tweets per day. This looks to be the first deal of this kind between Twitter and a third party Radian6 to allow full access for enterprise services.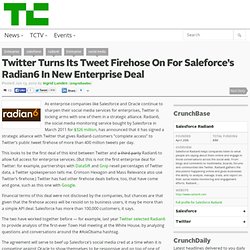 Twitter Turns Its Tweet Firehose On For Saleforce's Radian6 In New Enterprise Deal
How To Accelerate Social Business Using Employee Advocates
Subscribe to get 10 free content ideas daily While most social business efforts generally focus from the outset on gaining adoption — the initial strategies for which are now increasingly well-understood — many organizations greatly under-leverage one of the very best and most accessible resources for achieving high levels of traction in their efforts.
Why 'The Atlantic' No Longer Cares About SEO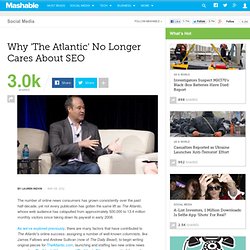 The number of online news consumers has grown consistently over the past half-decade, yet not every publication has gotten the same lift as The Atlantic, whose web audience has catapulted from approximately 500,000 to 13.4 million monthly visitors since taking down its paywall in early 2008.
Are you aware that, according to research from ExactTarget, 58% of Facebook users expect to receive discounts or promotions when they 'like' a business page?
New Facebook Coupon Feature Helps Local Businesses Determine Social ROI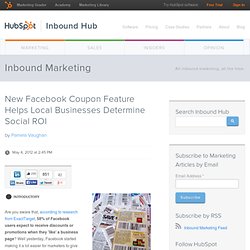 Klaus Stallbaum: marketing #forumhannover:
Klaus Stallbaum: Tim Adams: SEOsaurus Rex -
Online Marketing Köln – Kreative Strategien für Wachstum – EVOLOOP
David 2.0 gegen Goliath - ein ungleicher Kampf Nachdem der Begriff 'Pink Slime' einmal geprägt war, führte die sich ausbreitende, öffentliche Diskussion dazu, dass große Burger-Ketten ankündigten, das Verfahren nicht (mehr) einzusetzen, woraufhin der Lieferant meldete, 3 von 4 Fabriken schließen zu müssen. Zwar setzen sich nun einige Senatoren dafür ein, die rund 600 Arbeitsplätze zu erhalten, und weisen auf die gesundheitliche Unbedenklichkeit des Verfahrens hin; doch sieht es momentan eher danach aus, als würden sie sich selbst gleich mit beschädigen.
Die Rosa Schleim-Lawine · evoloopcom
The Fortune 500 are the largest companies by revenue in the USA and in 2010 Wal-Mart was the largest company on the list with revenues of $408 billion surpassing Exxon Mobil. These companies have a major impact not only on the USA but the world economy. Over the last few years the University of Massachusetts (headed up by Nora Ganim Barnes, Ph.D) has reported on the the current trends in social media usage at the big companies. This year for the first time she looked at Facebook's march into the big end of town. So how many of them are using the major social media tools including Facebook, Twitter and blogging? Blogging
How Are The Fortune 500 Embracing Facebook,Twitter & Blogging?
Social Media and ROI: Some clarity. (Again.)
I told you I would bring back this post regularly.
AGBeat has led the conversation surrounding visual bookmarking site, Pinterest.com by showing you months ago how to use the site, then demonstrated how it can be used in business and have even shared tips on adding Pinterest to your Facebook Page. The bandwagon is big and not only is traffic to the site exploding, interest in the site is as well.
PinClout measures your influence on Pinterest
Google Poised to Overtake Facebook in U.S. Display Ads Next Year
Is Pinterest the Next Big Social Network in Europe?
Social Media Workflow für die Kaffeepause - Anleitung für Vielbeschäftigte
Wie lassen sich Social Media in die klassischen CRM-Systeme integrieren? - Facebook, Twitter und Co: Auf der Suche nach der richtigen Social-CRM-Strategie
McDonald's Twitter Campaign Goes Horribly Wrong
12 case studies prove social and traditional work better together
Social Media für B2B Unternehmen Teil 1- Investment ohne Return?
UH, OH! Facebook Pages Only Reach 17% Of Fans
Time to Take Out the Social Media Trash
Studie: ROI von Social Media, PR und SEO bleibt meist im Dunkeln
Condé Nast Print Ads to Feature Mobile E-commerce
How to Use StumbleUpon: Your Comprehensive Guide
evoloopcom