Social Media Marketing
Which marketing channel gives you the most bang for your click? 70+ epic social media case studies, stats, blog posts and more. At Econsultancy, we publish a huge amount of content related to digital marketing and ecommerce.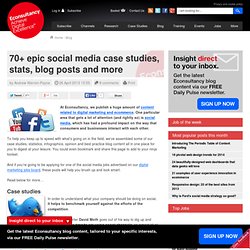 One particular area that gets a lot of attention (and rightly so) is social media, which has had a profound impact on the way that consumers and businesses interact with each other. To help you keep up to speed with what's going on in the field, we've assembled some of our case studies, statistics, infographics, opinion and best practice blog content all in one place for you to digest at your leisure. Die Zukunft des Journalismus: "Wir müssen uns mehr für Social Media öffnen" - Medien. "Wir leben in einer aufregenden und dynamischen Zeit", so Sulzberger auf dem DLD.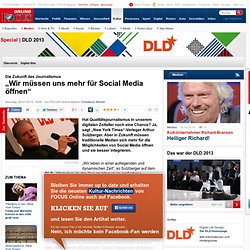 "Wir haben da draußen im Internet ein großartiges Publikum. Wir müssen die Chance nutzen, diese Leute besser einzubinden." Dabei gehe es nicht nur darum, wie man die Menschen besser erreichen könne, sondern auch um den umgekehrten Weg: Wie kommen Nachrichten aus der Internet-Community in die Redaktion? "Dort gibt es einen riesigen Wissenspool, aus dem wir schöpfen können", sagt Sulzberger. Neue Chancen nutzen. Facebook And Microsoft Are Working On A Deal, And It Could Change Everything About Advertising.
Growing Its Influence, Klout Gets Strategic Investment From Microsoft — And Serious Bing Integration. Klout hasn't just defied influential tech pundits, its social reputation scorecard has won them over.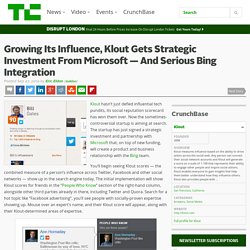 Now the sometimes-controversial startup is aiming at search. The startup has just signed a strategic investment and partnership with Microsoft that, on top of new funding, will create a product and business relationship with the Bing team. You'll begin seeing Klout scores — the combined measure of a person's influence across Twitter, Facebook and other social networks — show up in the search engine today. The initial implementation will show Klout scores for friends in the "People Who Know" section of the right-hand column, alongside other third parties already in there, including Twitter and Quora.
Search for a hot topic like "Facebook advertising", you'll see people with socially-proven expertise showing up. Social Gaming Demographics 2012  With the social gaming revolution expanding day by day, I thought it would be useful to see the latest demographics and statistics around who is actually playing them with this Infographic on Social Gaming Demographics for 2012.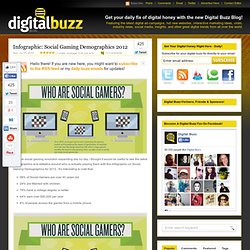 It's interesting to note that: 58% of Social Gamers are over 40 years old29% are Married with children79% have a college degree or better44% earn over $50,000 per year8% of people access the games from a mobile phone Be Sociable, Share! Will social media mentions replace links? With the recent Panda and Penguin updates it's evident that Google is perfecting the all-mighty algorithm against the heavy influx of ever-changing SEO tactics that are being executed by brands all over the globe.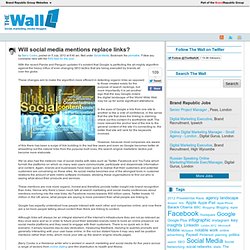 These changes aim to make the algorithm more efficient in detecting organic links as opposed to those created solely for the purpose of search rankings, but more importantly it is yet another sign that the way Google orders the digital landscape of the World Wide Web may be up for some significant alterations. In the eyes of Google a link from one site to another is like a vote of confidence, in the sense that the site that does the linking is claiming, check out this content it's worthwhile stuff. The more relevant the anchor text of the link to the general content of the site it's connecting to, the better that site will rank for the keywords involved. Das Twitter-Desaster von Starbucks. Starbucks-Logo Das Unternehmen hat mit einem einzigen Tweet eine Welle der Empörung ausgelöst.
Nicht bei uns. Bei den Iren. Erst denken, dann twittern. Der Kaffee-Spezialist Starbucks hat gerade gezeigt, dass man mit Marketing-Posts via Twitter auch was falsch machen kann. Twitter Turns Its Tweet Firehose On For Saleforce's Radian6 In New Enterprise Deal. As enterprise companies like Salesforce and Oracle continue to sharpen their social media services for enterprises, Twitter is locking arms with one of them in a strategic alliance.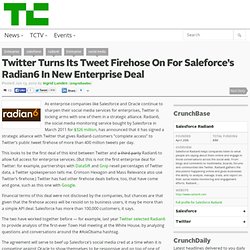 Radian6, the social media monitoring service bought by Salesforce in March 2011 for $326 million, has announced that it has signed a strategic alliance with Twitter that gives Radian6 customers "complete access" to Twitter's public tweet firehose of more than 400 million tweets per day. This looks to be the first deal of this kind between Twitter and a third party Radian6 to allow full access for enterprise services. How To Accelerate Social Business Using Employee Advocates. While most social business efforts generally focus from the outset on gaining adoption — the initial strategies for which are now increasingly well-understood — many organizations greatly under-leverage one of the very best and most accessible resources for achieving high levels of traction in their efforts.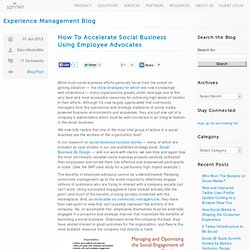 Although it's now largely appreciated that community managers form the operational and strategic backbone of social media-powered business environments and processes, they are just one set of a company's stakeholders which must be well-connected in an integral fashion in the social business. We now fully realize that one of the most vital group of actors in a social business are the workers of the organization itself. Why 'The Atlantic' No Longer Cares About SEO. The number of online news consumers has grown consistently over the past half-decade, yet not every publication has gotten the same lift as The Atlantic, whose web audience has catapulted from approximately 500,000 to 13.4 million monthly visitors since taking down its paywall in early 2008.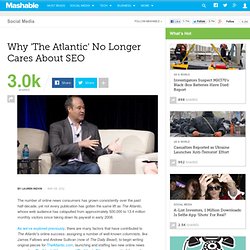 As we've explored previously, there are many factors that have contributed to The Atlantic's online success: assigning a number of well-known columnists, like James Fallows and Andrew Sullivan (now of The Daily Beast), to begin writing original pieces for TheAtlantic.com; launching and staffing two new online news properties, TheAtlanticWire.com and TheAtlanticCities.com; and building up its digital ad offerings to support those hires. Furthermore, The Atlantic is adapting its editorial strategy to the shifting landscape of online news consumption, namely, to capitalize on the growing importance of social networks, rather than search engines, as sources of traffic. New Facebook Coupon Feature Helps Local Businesses Determine Social ROI. Are you aware that, according to research from ExactTarget, 58% of Facebook users expect to receive discounts or promotions when they 'like' a business page?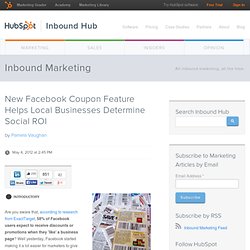 Well yesterday, Facebook started making it a lot easier for marketers to give the people what they want. And now brick-and-mortar local businesses have another smart reason to use Facebook. Coupons! Klaus Stallbaum: marketing #forumhannover:... Klaus Stallbaum: Tim Adams: SEOsaurus Rex -... Online Marketing Köln – Kreative Strategien für Wachstum – EVOLOOP. Die Rosa Schleim-Lawine · evoloopcom. David 2.0 gegen Goliath - ein ungleicher Kampf Nachdem der Begriff 'Pink Slime' einmal geprägt war, führte die sich ausbreitende, öffentliche Diskussion dazu, dass große Burger-Ketten ankündigten, das Verfahren nicht (mehr) einzusetzen, woraufhin der Lieferant meldete, 3 von 4 Fabriken schließen zu müssen. Zwar setzen sich nun einige Senatoren dafür ein, die rund 600 Arbeitsplätze zu erhalten, und weisen auf die gesundheitliche Unbedenklichkeit des Verfahrens hin; doch sieht es momentan eher danach aus, als würden sie sich selbst gleich mit beschädigen.
Gegen die Macht des 'Pink Slime' und Millionen Steine schleudernde Davids kommt keiner an. Wir sehen einer Zeit entgegen, wo sich spontan Millionen organisieren können, die zwar nur mit einer imaginären Steinschleuder bewaffnet sind, doch durch die Möglichkeit konzertierten Vorgehens (es grüßt der arabische Frühling) mehr Macht bekommen als es über traditionelle Medienkanäle möglich war. How Are The Fortune 500 Embracing Facebook,Twitter & Blogging? The Fortune 500 are the largest companies by revenue in the USA and in 2010 Wal-Mart was the largest company on the list with revenues of $408 billion surpassing Exxon Mobil.
These companies have a major impact not only on the USA but the world economy. Over the last few years the University of Massachusetts (headed up by Nora Ganim Barnes, Ph.D) has reported on the the current trends in social media usage at the big companies. This year for the first time she looked at Facebook's march into the big end of town. So how many of them are using the major social media tools including Facebook, Twitter and blogging? Blogging. Social Media and ROI: Some clarity. (Again.) I told you I would bring back this post regularly. Here it is again, until the day when everyone understands how simple this is. Okay, here we go: If you are still having trouble explaining or understanding social media R.O.I., chances are that… PinClout measures your influence on Pinterest. AGBeat has led the conversation surrounding visual bookmarking site, Pinterest.com by showing you months ago how to use the site, then demonstrated how it can be used in business and have even shared tips on adding Pinterest to your Facebook Page.
The bandwagon is big and not only is traffic to the site exploding, interest in the site is as well. We waited for Klout to integrate Pinterest into their offering, but they have not, so to fill the void in the era of social proof is PinClout which offers users to discover their PinClout. There has been little to no notice of the site's launch, so not much is known about the site, but we gather that the scores are based on eight factors – total pins, total repins, total boards, total likes, total comments, total followers and total following, and a quick look at the scores on their landing page, they are all quite low which could possibly be because most users are so new to what is still an invite-only network.
Google Poised to Overtake Facebook in U.S. Display Ads Next Year. Is Pinterest the Next Big Social Network in Europe? Social Media Workflow für die Kaffeepause - Anleitung für Vielbeschäftigte. Wie lassen sich Social Media in die klassischen CRM-Systeme integrieren? - Facebook, Twitter und Co: Auf der Suche nach der richtigen Social-CRM-Strategie. McDonald's Twitter Campaign Goes Horribly Wrong. 12 case studies prove social and traditional work better together. Social Media für B2B Unternehmen Teil 1- Investment ohne Return? UH, OH! Facebook Pages Only Reach 17% Of Fans. Time to Take Out the Social Media Trash. Studie: ROI von Social Media, PR und SEO bleibt meist im Dunkeln. Condé Nast Print Ads to Feature Mobile E-commerce.
How to Use StumbleUpon: Your Comprehensive Guide.
Evoloopcom.
---