Life-Hacks
Liveplasma music, movies, search engine and discovery engine. Sex Tips. Soda Machine Hack. Most modern vending machines have little computers inside.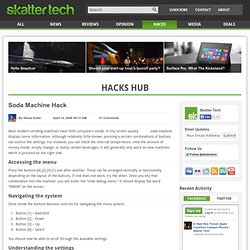 A tiny screen usually displays some information. Although relatively little known, pressing a certain combinations of buttons can control the settings. For instance, you can check the internal temperature, view the amount of money inside, empty change, or dump certain beverages. It will generally only work on new machines which is pictured on the right side. Press the buttons [4] [2] [3] [1] one after another. 70 Things Every Computer Geek Should Know. | Arrow Webzine. The term 'geek', once used to label a circus freak, has morphed in meaning over the years.
What was once an unusual profession transferred into a word indicating social awkwardness. As time has gone on, the word has yet again morphed to indicate a new type of individual: someone who is obsessive over one (or more) particular subjects, whether it be science, photography, electronics, computers, media, or any other field. Today's date.
Survival. Homebrewing. Learn It. Study. Health.
---