Life-Hacks
Most modern vending machines have little computers inside. A tiny screen usually displays some information. Although relatively little known, pressing a certain combinations of buttons can control the settings.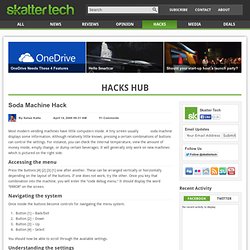 The term 'geek', once used to label a circus freak, has morphed in meaning over the years. What was once an unusual profession transferred into a word indicating social awkwardness. As time has gone on, the word has yet again morphed to indicate a new type of individual: someone who is obsessive over one (or more) particular subjects, whether it be science, photography, electronics, computers, media, or any other field.
today's date
What Happens to Your body if you stop smoking Right now?