Facts
The 5 Scientific Experiments Most Likely to End the World. Let's face it, we really trust science.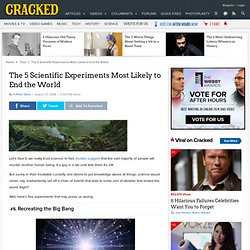 In fact, studies suggest that the vast majority of people will murder another human being, if a guy in a lab coat tells them it's OK. But surely in their insatiable curiosity and desire to put knowledge above all things, science would never, say, inadvertently set off a chain of events that lead to some sort of disaster that ended the world. Famous World Ideologies, as explained by references to Cows. 7 Man-Made Substances that Laugh in the Face of Physics. The universe is full of weird substances like liquid metal and whatever preservative keeps Larry King alive.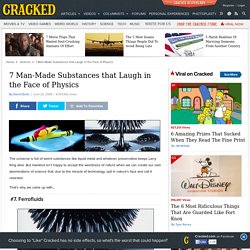 But mankind isn't happy to accept the weirdness of nature when we can create our own abominations of science that, due to the miracle of technology, spit in nature's face and call it retarded. That's why we came up with... What do you get when you suspend nanoparticles of iron compounds in a colloidal solution of water, oil and a surfactant? Did you guess Zima? The real answer is ferrofluids, though you should be proud if you just knew what "surfactant" was. Top 10 Civilizations That Mysteriously Disappeared. Throughout our history, most civilizations have either met a slow demise or were wiped out by natural disasters or invasion.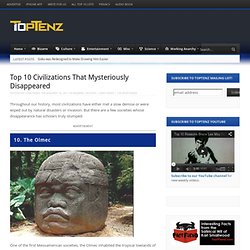 But there are a few societies whose disappearance has scholars truly stumped: 10. The Olmec One of the first Mesoamerican societies, the Olmec inhabited the tropical lowlands of south-central Mexico. PlanetQuest Historic Timeline.
---