SketchUp
SpaceClaim 3D Direct Modeling. SpaceClaim is a solid modeling application with a goal similar to SketchUp: make a 3D mechanical design tool so easy that anyone can use it.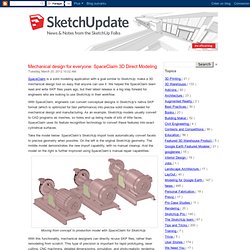 We helped the SpaceClaim team read and write SKP files years ago, but their latest release is a big step forward for engineers who are looking to use SketchUp in their workflow. With SpaceClaim, engineers can convert conceptual designs in SketchUp's native SKP format (which is optimized for fast performance) into precise solid models needed for mechanical design and manufacturing. As an example, SketchUp models usually convert to CAD programs as meshes, so holes end up being made of lots of little faces. Plugin List.
NOTICE: All plugins have been updated so that they all appear under SDM Tools on the plugins menu.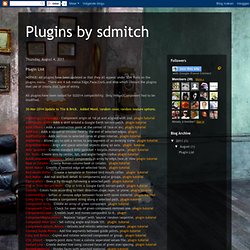 There are 4 sub menus Edge,Face,CorG,and Misc which contain the plugins that use or create that type of entity. All plugins have been tested for SU2014 compatibility. Only Image2Component had to be modified. Google SketchUp 3D Rendering Tutorials SketchUpArtists. SketchUpArtists London Daily. QuadFaceTools (0.7.0b) — 08 February 2012. OverviewQuads and TopologyA big deal of organic modelling workflow spin around good topology of quads (faces with four vertices/edges).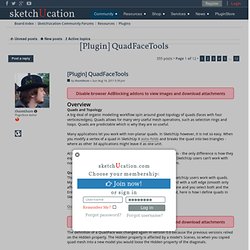 Quads allows for many very useful mesh operations, such as selection rings and loops. Quads are predictable which is why they are so useful. Many applications let you work with non-planar quads. Chaîne de 4sketchupgo2school.
---