Outdoors
Leeds Bicycle
British Cycling / Insight Zone
Re-Cycle Engineering - Home page
Bike Register
Kryptonite Locks
Mango Bikes | Products Archive
Pembrokeshire Coast Challenge 18th - 20th Nov 2011
My Personal Challenge
The Welsh 3000s Challenge / 14 Peaks / 15 Peaks
ROCKFAX
Leeds Wall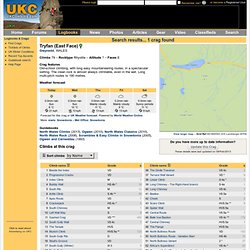 Ogwen - Tryfan
Gwynedd , WALES Climbs 79 – Rocktype Rhyolite – Altitude ? – Faces E Crag features Old-school climbing, with long easy mountaineering routes, in a spectacular setting.
Databases | Tremadog > Bwlch y Moch
The British Mountaineering Council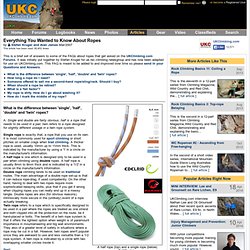 Everything You Wanted to Know About Ropes
by Stefan Kruger and Alan James Mar/2007 This article has been read 31,346 times This is a brief set of answers to some of the FAQs about ropes that get asked on the UKClimbing.com Forums . It was initially put together by Stefan Kruger for uk.rec.climbing newsgroup and has now been adapted for use on UKClimbing.com. This FAQ is meant to be added to and improved over time so please send in your Questions and Answers .
Shoes designed for climbing rocks. The fit of climbing shoes varies dramatically between manufacturers and styles, but don't let this worry you. If you buy a pair and they don't fit we will let you swap them for a different size without charging you any postage fees. All we ask is that you don't climb in them before you send them back!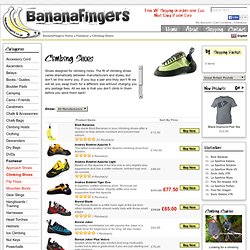 Climbing Shoes | BananaFingers
Toughtags