Outdoors
Leeds Bicycle
British Cycling / Insight Zone
Don't take our word for it - pop in and see for yourself! 2 Norwood Mount (rear of 133 Victoria Road), Headingley, Leeds LS6 1DU(near to Burley Park Railway Station and Rugby & Cricket grounds)
Re-Cycle Engineering - Home page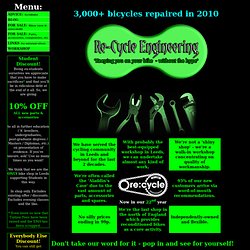 Bike Register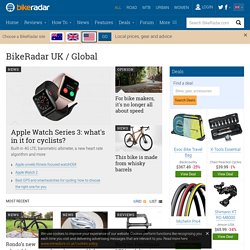 BikeRadar keeps you up to date with top reviews of the latest bikes and gear for cyclists. Check out our sections on mountain, road or beginner bikes, looking at new models and putting them through rigorous testing. All bikes are properly rated by our experts for price, strengths and weaknesses. We also check out all that's new with bike parts, clothing, tyres and accessories to keep you informed as to what's out there.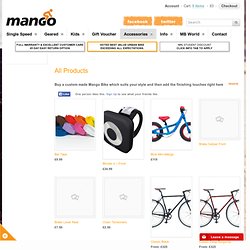 Mango Bikes | Products Archive
Buy a custom made Mango Bike which suits your style and then add the finishing touches right here in our online bike shop. We offer clothing, cycling equipment and bike accessories to cater to every need. Stay warm, comfortable and safe on your journey or kit out your bike with lights and other handy pieces which can improve your ride. We love our bikes, and we love taking them wherever we go; whether we're darting in and out of traffic, breezing down country lanes, or propping up against them at the beach. But wherever the journey takes us, we know how important it is to ride in safety as well as style.
My Personal Challenge
The Welsh 3000s Challenge / 14 Peaks / 15 Peaks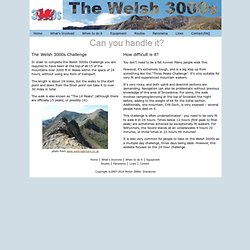 In order to complete the Welsh 3000s Challenge you are required to have been at the top of all 15 of the mountains over 3000 ft in Wales within the space of 24 hours, without using any form of transport. The length is about 24 miles, but the walks to the start point and down from the finish point can take it to over 30 miles in total. The walk is also known as "The 14 Peaks" (although there are officially 15 peaks, or possibly 16). You don't need to be a fell runner.
ROCKFAX
Beginners Course Get fit & have fun on our Beginners Climbing Course. Our course will teach you all the basics so that you can continue to climb confidently as a member of the Leeds Wall. The beginners course is suitable for anyone over 18 and is ideal for you and a friend to come and climb or bring down children and other non members! Special Offer Reduced to £45! or call 0113 2341554 to book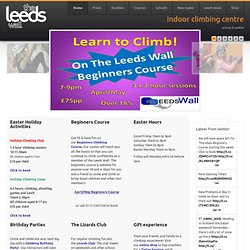 Leeds Wall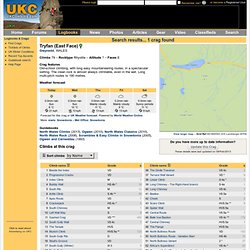 Ogwen - Tryfan
Gwynedd, WALES Climbs 79 – Rocktype Rhyolite – Altitude ? – Faces E Crag features Old-school climbing, with long easy mountaineering routes, in a spectacular setting.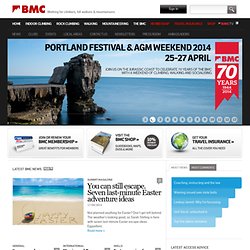 The British Mountaineering Council
Mina Leslie-Wujastyk: Rocklands 2013 In the summer of 2013 Mina Leslie-Wujastyk spent six weeks in Rocklands, South Africa. Over the coming weeks BMC TV will release four short films showing some of her accomplishments whilst there. From highballs to lowballs, crimps to slopers, tech to burl, follow Mina on her journey to battle frustration and reap the rewards in one of the most beautiful, picturesque climbing areas in the world.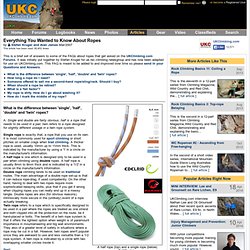 Everything You Wanted to Know About Ropes
This is a brief set of answers to some of the FAQs about ropes that get asked on the UKClimbing.com Forums. It was initially put together by Stefan Kruger for uk.rec.climbing newsgroup and has now been adapted for use on UKClimbing.com. This FAQ is meant to be added to and improved over time so please send in your Questions and Answers. A half rope (top) and a single rope (below)© UKC articles
Shoes designed for climbing rocks. The fit of climbing shoes varies dramatically between manufacturers and styles, but don't let this worry you. If you buy a pair and they don't fit we will let you swap them for a different size without charging you any postage fees. All we ask is that you don't climb in them before you send them back!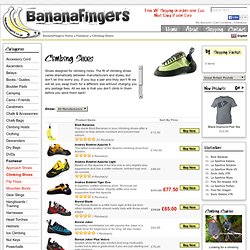 Climbing Shoes | BananaFingers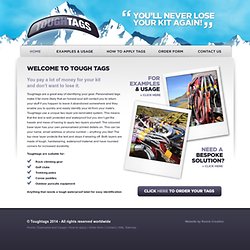 Toughtags
You pay a lot of money for your kit and don't want to lose it. Toughtags are a great way of identifying your gear. Personalised tags make it far more likely that an honest soul will contact you to return your stuff if you happen to leave it abandoned somewhere and they enable you to quickly and easily identify your kit from your mate's.