Baroks+Rokoko
George Frideric Handel. George Frideric Handel (/ˈhændəl/;[1] German: Georg Friedrich Händel; German pronunciation: [ˈhɛndəl]; (1685-02-23)23 February 1685 – 14 April 1759(1759-04-14)) was a German-born Baroque composer famous for his operas, oratorios, anthems and organ concertos.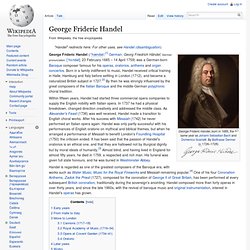 Born in a family indifferent to music, Handel received critical training in Halle, Hamburg and Italy before settling in London (1712), and became a naturalized British subject in 1727.[2] By then he was strongly influenced by the great composers of the Italian Baroque and the middle-German polyphonic choral tradition. Early years[edit] Händel-Haus (2009) – birthplace of George Frideric Handel Entrance of Teatro del Cocomero in Florence. The J.S. Bach Home Page. Johann Sebastian Bach. Domenico Scarlatti: a concise biography. Giuseppe Domenico Scarlatti was born in Naples on October 26th, 1685.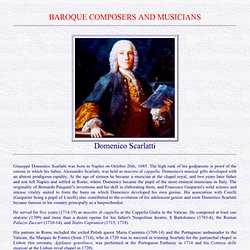 The high rank of his godparents is proof of the esteem in which his father, Alessandro Scarlatti, was held as maestro di cappella. Domenico's musical gifts developed with an almost prodigious rapidity. At the age of sixteen he became a musician at the chapel royal, and two years later father and son left Naples and settled in Rome, where Domenico became the pupil of the most eminent musicians in Italy. The originality of Bernardo Pasquini"s inventions and his skill in elaborating them, and Francesco Gasparini's solid science and intense vitality united to form the basis on which Domenico developed his own genius.
Domenico Scarlatti. Life and career[edit] Domenico Scarlatti was born in Naples, Kingdom of Naples, in 1685, the same year as Johann Sebastian Bach and George Frideric Handel.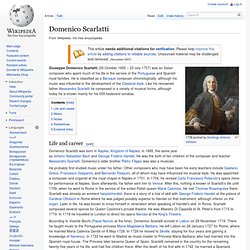 He was the sixth of ten children of the composer and teacher Alessandro Scarlatti. Domenico's older brother Pietro Filippo was also a musician. According to Vicente Bicchi (Papal Nuncio at the time), Domenico Scarlatti arrived in Lisbon on 29 November 1719. Jean-Philippe Rameau. Jean-Philippe Rameau (French: [ʒɑ̃filip ʁamo]; 25 September 1683 – 12 September 1764) was one of the most important French composers and music theorists of the Baroque era.[1] He replaced Jean-Baptiste Lully as the dominant composer of French opera and is also considered the leading French composer for the harpsichord of his time, alongside François Couperin.[2] Little is known about Rameau's early years, and it was not until the 1720s that he won fame as a major theorist of music with his Treatise on Harmony (1722).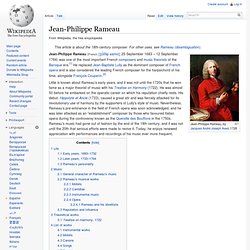 He was almost 50 before he embarked on the operatic career on which his reputation chiefly rests. François Couperin. François Couperin, (1668-1733).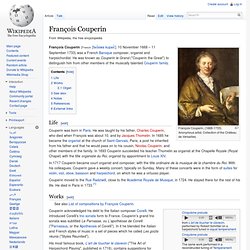 Anonymous artist, Collection of the Château de Versailles. François Couperin (French: [fʁɑ̃swa kupʁɛ̃]; 10 November 1668 – 11 September 1733) was a French Baroque composer, organist and harpsichordist.
---