Decoraçao e arquitetura
Hanging Boat Bed
Wonderwall
iPaper
Wall & Decò
Sabbe Interior Design (via) We're thinking about Kermit the Frog these days...maybe it is because everywhere we look outside we see bright, bold greens in our gardens and yards. Well, unlike Kermit, we think it's easy being green. Bold greens, ranging from chartreuse to grass green to kelly green, add a lively splash of color to a room.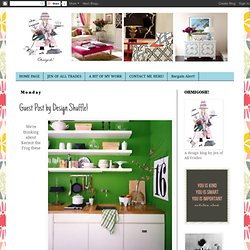 Guest Post by Design Shuffle!
BB&B | Color Inspiration, Interior Design, Decorating Ideas, Etsy, Fashion Blog
Delightful & Delovely
Once again the season of starwberries looms upon the horizons of farmers markets & better produce departments. I'm excited, no a bit nuts for the starwberries. Now in AZ I do miss the times picking fresh at the farms that dot north of Metro Detroit: fresh slightly cool because I always go in the morning & oh sooo sweet.
Thesweetestoccasion / Pinterest
Name: Haldane MartinLocation: Cape Town, South AfricaSize: 810 sq.ft.Years lived in: 0 — we shot this space in the very first week he moved in! >> See Slideshow! When Haldane agreed on a house tour, less than 48 hours after he moved in, you would expect the normal chaos that relocation brings. However, we totally underestimated the determination of this successful furniture designer and entrepreneur from Cape Town. He was a man on a mission to get his nest ready and livable in no time. >> Enter Slideshow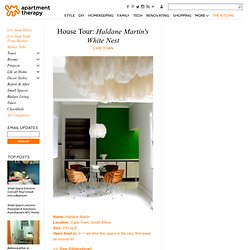 House Tour: Haldane Martin's White Nest Cape Town | Apartment Therapy DC
WHATtheCOOL
not martha
links: the home · comments [6] · 01-14-2014 · categories:links · the home · links: misc Er Wang Dong cave in China so huge it has its own weather system | Mail Online. I love caves, it's been far too long since I've been in one.
FFFFOUND!
maisArquitetura
Your connection with architecture: stories, projects, products, materials, companies, people, 3D Models
ARCHITECTURELOVER.COM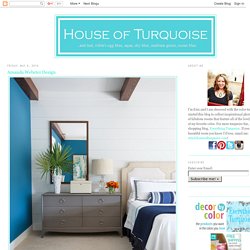 Not only are our winters LONG here in Minnesota, they can be absolutely dreary too–especially now when spring is fighting it's way out. We need our homes to be cozy and bright, and this home by Minneapolis-based Renae Keller Interior Design is exactly what I love to see! The open and inviting living space photographed by Troy Thies feels both comfortable and fresh, thanks to the cozy neutral tones and fun splashes of color!
House of Turquoise
♥Stipje♥
YOSHIOKA INC.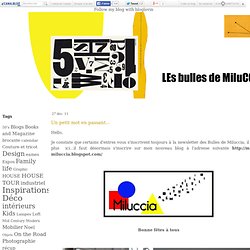 27 déc. 11 Un petit mot en passant... Hello,
les bulles de Miluccia
bohemian modern style from a san francisco girl - Part 2
the inspired office. Posted by victoria //// 9 Comments i loved this retrospective feature on the domino website that included some of my favorite office inspiration from the domino magazine archives (september 2005, and still timeless). i'm trying to set up a little home office for myself (in the dining room) and i love everything about this very feminine, but functional workspace. my walls may soon too be covered in inspirational scrap. heaven knows, i've got enough piles of magazine tears around here to paper the smithsonian. thanks for the 'blast from the past', domino. this has always been a favorite feature of mine. • all images via domino magazine. inside out never looked better.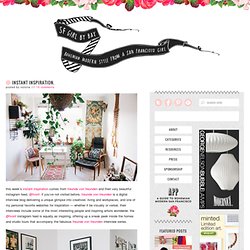 My Modern Metropolis
16 Divinely Inspired Pieces of Architecture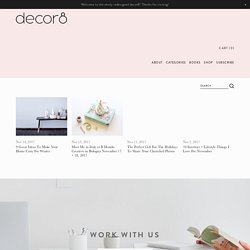 If you're a mom-to-be like me, or a newish mom still shopping for baby gear, I hope this post is somewhat helpful to you! My blog friend, Lesley Myrick, who just had her baby boy a few days ago (congrats, Lesley!), asked me what my baby registry essentials are and shared a link to her blog where she documented all the stuff on her wish list for feeding, sleeping, baby care and travel. Inspired by her post, I thought I'd do the same.
decor8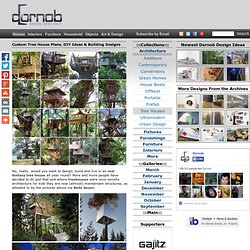 No, really: would you want to design, build and live in an real fantasy tree house all year round? More and more people have decided to do just that and where treehouses were once novelty architecture for kids they are now (almost) mainstream structures, as attested to by the pictures above via Bella Seven. Many modern tree house designs and home designers and custom builders take a site-specific approach and construct their tree buildings around not only views and rooms but also have to account for access and structural support in unique and novel ways. Some of the results are little auxiliary spaces intended for guests or vacations while others are fully developed tree homes with everything need for daily living. While a lot of attention is paid to lofty plans by fashionable designers, there are many people who continue to use quite conventional home-building plans, techniques and materials to construct tree homes and cabins that look much like ordinary residences on the ground below.
Custom Tree House Plans, DIY Ideas & Building Designs | Designs &Id...
Awesome Stuff
25 Abandoned Yugoslavia Monuments that look like they're from the Future
These structures were commissioned by former Yugoslavian president Josip Broz Tito in the 1960s and 70s to commemorate sites where WWII battles took place (like Tjentište, Kozara and Kadinjača), or where concentration camps stood (like Jasenovac and Niš). They were designed by different sculptors (Dušan Džamonja, Vojin Bakić, Miodrag Živković, Jordan and Iskra Grabul, to name a few) and architects (Bogdan Bogdanović, Gradimir Medaković...), conveying powerful visual impact to show the confidence and strength of the Socialist Republic. In the 1980s, these monuments attracted millions of visitors per year, especially young pioneers for their "patriotic education." After the Republic dissolved in early 1990s, they were completely abandoned, and their symbolic meanings were forever lost.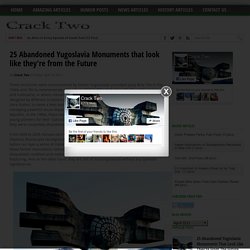 Modern design blogs - Livingetc.com
Dining Chairs, Dining Room Chairs and Contemporary Dining Chairs at Bonluxat.com
Happy Chic decorative home accessories and designer pottery from Jonathan Adler
Mike Butler Architectural + Interior + Residential + Exterior Photographer Miami Florida
obvious: arquitetura
★ home & vintage ★
Fubiz™
Solid frog
Decoração e buscador de móveis de design
Kika Reichert
FOR THE LOVE OF COLOR
20 Insanely Creative Bookshelves: Pics, Videos, Links, News
A CUP OF JO
Apartment Therapy
Yatzer™
d♥
photographer trine thorsen
Janne Peters - Fotografie, Food, Stills, Interior, Fotografin, Fotograf, Hamburg
Modern design blogs - Livingetc.com
Dezeen architecture and design magazine
Quarto & Sala
the selby - photos in your place. featuring photographs, paintings and videos by todd selby of interesting people and their creative spaces
NOTCOT
assim eu gosto
Bloesem
Dwell - At Home in the Modern World
industrial design courses ? designboom