Decoraçao e arquitetura
Hanging Boat Bed. Wonderwall. iPaper. Wall & Decò. Guest Post by Design Shuffle! Sabbe Interior Design (via) We're thinking about Kermit the Frog these days...maybe it is because everywhere we look outside we see bright, bold greens in our gardens and yards.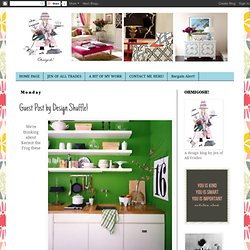 Well, unlike Kermit, we think it's easy being green. Bold greens, ranging from chartreuse to grass green to kelly green, add a lively splash of color to a room. BB&B | Color Inspiration, Interior Design, Decorating Ideas, Etsy, Fashion Blog. Delightful & Delovely. Thesweetestoccasion / Pinterest. House Tour: Haldane Martin's White Nest Cape Town | Apartment Therapy DC. Name: Haldane MartinLocation: Cape Town, South AfricaSize: 810 sq.ft.Years lived in: 0 — we shot this space in the very first week he moved in!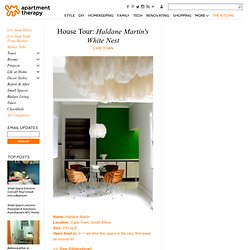 >> See Slideshow! When Haldane agreed on a house tour, less than 48 hours after he moved in, you would expect the normal chaos that relocation brings. However, we totally underestimated the determination of this successful furniture designer and entrepreneur from Cape Town. He was a man on a mission to get his nest ready and livable in no time. >> Enter Slideshow. WHATtheCOOL. Not martha. FFFFOUND! MaisArquitetura. Your connection with architecture: stories, projects, products, materials, companies, people, 3D Models. ARCHITECTURELOVER.COM. House of Turquoise. ♥Stipje♥
YOSHIOKA INC. Les bulles de Miluccia. Bohemian modern style from a san francisco girl - Part 2. Instant inspiration.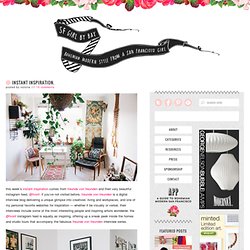 Posted by victoria //// 10 Comments this week's instant inspiration comes from Freunde von Freunden and their very beautiful instagram feed, @fvonf. if you've not visited before, Freunde von Freunden is a digital interview blog delivering a unique glimpse into creatives' living and workplaces, and one of my personal favorite websites for inspiration — whether it be visually or verbal, their interviews include some of the most interesting people and inspiring artists worldwide. the @fvonf instagram feed is equally as inspiring, offering up a sneak peek inside the homes and studio tours that accompany the fabulous Freunde von Freunden interview series. • all photos courtesy of @fvonf. easter's around the corner — let's get hopping.
My Modern Metropolis. 16 Divinely Inspired Pieces of Architecture. Our beautiful world is filled with wonderful pieces of architecture.
Regarding religious architecture, today there are several churches that live on since the 13th century or even earlier times, which are worth knowing about. In this short incursion into the history of sacred places all over the World, you will have the opportunity to make acquaintance with 16 examples of beautiful churches – some notable for their exterior, while others inspiring awe through the beautiful frescoes painted on the ceilings. Saint-Michel D'Aiguilhe – Aiguilhe, France Image source Image source. Decor8. Custom Tree House Plans, DIY Ideas & Building Designs | Designs &Id...
No, really: would you want to design, build and live in an real fantasy tree house all year round?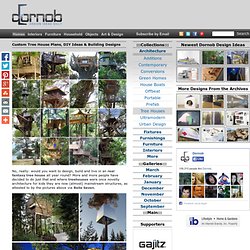 More and more people have decided to do just that and where treehouses were once novelty architecture for kids they are now (almost) mainstream structures, as attested to by the pictures above via Bella Seven. Many modern tree house designs and home designers and custom builders take a site-specific approach and construct their tree buildings around not only views and rooms but also have to account for access and structural support in unique and novel ways. Awesome Stuff. 25 Abandoned Yugoslavia Monuments that look like they're from the Future.
These structures were commissioned by former Yugoslavian president Josip Broz Tito in the 1960s and 70s to commemorate sites where WWII battles took place (like Tjentište, Kozara and Kadinjača), or where concentration camps stood (like Jasenovac and Niš).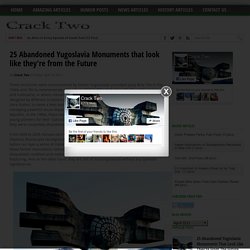 They were designed by different sculptors (Dušan Džamonja, Vojin Bakić, Miodrag Živković, Jordan and Iskra Grabul, to name a few) and architects (Bogdan Bogdanović, Gradimir Medaković...), conveying powerful visual impact to show the confidence and strength of the Socialist Republic. In the 1980s, these monuments attracted millions of visitors per year, especially young pioneers for their "patriotic education. " After the Republic dissolved in early 1990s, they were completely abandoned, and their symbolic meanings were forever lost.
Modern design blogs - Livingetc.com. Dining Chairs, Dining Room Chairs and Contemporary Dining Chairs at Bonluxat.com. Happy Chic decorative home accessories and designer pottery from Jonathan Adler. Mike Butler Architectural + Interior + Residential + Exterior Photographer Miami Florida. Obvious: arquitetura. ★ home & vintage ★ Fubiz™ Solid frog. Kika Reichert. Kika Reichert inspirations Skip to content :: about :: « Older posts.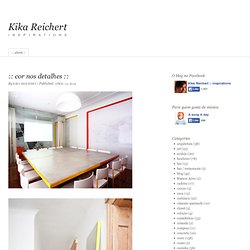 FOR THE LOVE OF COLOR. 20 Insanely Creative Bookshelves: Pics, Videos, Links, News. A CUP OF JO. Apartment Therapy. Yatzer™ D♥ Photographer trine thorsen. Janne Peters - Fotografie, Food, Stills, Interior, Fotografin, Fotograf, Hamburg. Modern design blogs - Livingetc.com. Dezeen architecture and design magazine. Quarto & Sala. The selby - photos in your place. featuring photographs, paintings and videos by todd selby of interesting people and their creative spaces. NOTCOT. Assim eu gosto.
Bloesem. Dwell - At Home in the Modern World. Industrial design courses ? designboom.
---