Architectuur
Free Home Design Software and Interior Design Software - Autodesk Homestyler. A completely renovated first&apartment - StumbleUpon. What a makeover!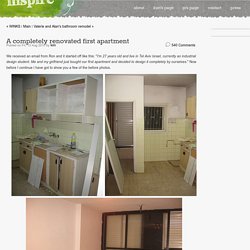 This made me feel 'myownapartamentsick' even more than ever :)bulb-lamp is great, i also made something like that, but there were less bulbs so the effect wasn't that stunning. love the shower, look really great, also the brick wall and, what surprised me, that green tone in the bedroom. you had great ideas and you fortunately put them into effect. the one thing i dislike is a study room. i hate that desk and chair, they just so boring actually. but i adore the red wall and those cat-things, sorry, i have no idea how to call it. ;)
Home Decorating Ideas, Kitchen Designs, Paint Colors - House Beautiful - StumbleUpon. Danish home: Colour land | creamylife.com - embracing stylish art and design. Can you believe that the weather these days is just awful?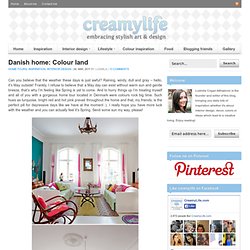 Raining, windy, dull and gray – hello, it's May outside! Frankly, I refuse to believe that a May day can exist without warm sun and gentle breeze, that's why I'm feeling like Spring is yet to come. And to hurry things up I'm treating myself and all of you with a gorgeous home tour located in Denmark were colours rock big time. Such hues as turquoise, bright red and hot pink prevail throughout the home and that, my friends, is the perfect pill for depressive days like we have at the moment :).
The Selby + Simple Creative Home - wave avenue - StumbleUpon. Posted by rd on Wednesday, October 19, 2011 · I recently discovered The Selby, and here is a home, more or less 1000 sq ft., bursting with neutral colors making it 'bigger' than it actually is.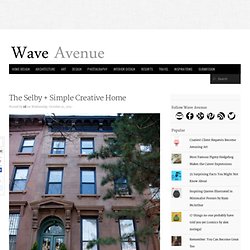 I really love the combination of open planning and simple palette in this home.. Everything's seems within reach but doesn't appear too crowded.. Every area is properly spaced.. RoomSketcher. Antonio Zaninovic&Architects. Small Modern House for a Young Couple by 0 to 1 Architects. Designed by 0 to 1 Architects, the W House is placed on a wooded site which situated along a gentle slope that meets a flowing stream at its bottom.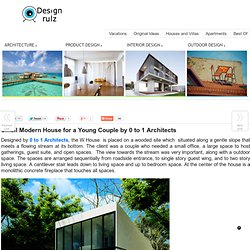 The client was a couple who needed a small office, a large space to host gatherings, guest suite, and open spaces. The view towards the stream was very important, along with a outdoor space. White Townhouse by Elding Oscarson Architects. Innovative Bloomframe Window Transforms Into Balcony. Dutch architectural firm Hofman Dujardin has designed the Bloomframe, an innovative window that transforms into a balcony with the simple click of a button.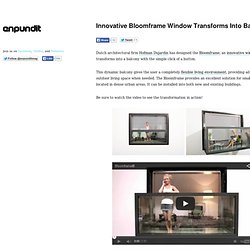 This dynamic balcony gives the user a completely flexible living environment, providing additional outdoor living space when needed. The Bloomframe provides an excellent solution for small apartments located in dense urban areas. It can be installed into both new and existing buildings. Be sure to watch the video to see the transformation in action! Share With Your Friends. Casa Corallo by PAZ Arquitectura.
---