Evavanderborghtmsn.com
Eva VdB
Sport
May come in handy. Party oma en papa. Lay's. DIY. Urban exploration. Party. Wauw sites. Closet Office | - StumbleUpon. I have begun to meet up with several of my 555 residents to document some of their downsizing solutions.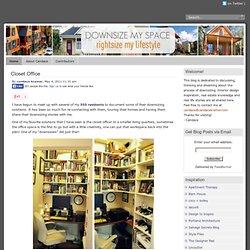 It has been so much fun re-connecting with them, touring their homes and having them share their downsizing stories with me. One of my favorite solutions that I have seen is the closet office! In a smaller living quarters, sometimes the office space is the first to go but with a little creativity, one can put that workspace back into the plan! One of my "downsizers" did just that!
Wardrobe. Quotes. Moet ik onthouden. Foto's. Cool. Funny. Eten. Reizen. Books. Pearltrees videos. Getting started.
---