Cool sites
Home
is an affordable, Exclusive and effortless way to explore new hair products. You can discover hand-selected curly hair products delivered to your doorstep every month. WHAT IT IS: Every month subscribers receive 5-7 quality hair product samples for $20 per month. Cancel anytime. WHAT IS IN MY BOX: Subscribers can look forward to extraordinary products from established brands as well as some really great up and coming brands.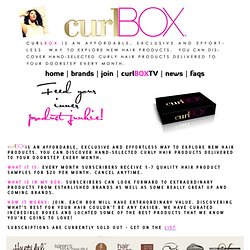 BINARYTHIS | EVERYTHING YOU ALWAYS WANTED TO KNOW ABOUT GENDER BUT WERE TOO AFRAID TO ASK
Following hot on the heels of Foucault Explained with Hipsters , here's JB's Gender Trouble explained in Socratic dialogue style. With cats. All page references from Butler, J. (1990 [2008: 1999]). Gender Trouble: Feminism and the Subversion of Identity . New York; London: Routledge.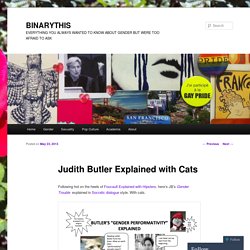 Judith Butler Explained with Cats | BINARYTHIS
Decolonizing YogaDecolonizing Yoga - Where Social Justice & Spirituality Meet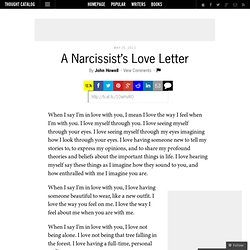 When I say I'm in love with you, I mean I love the way I feel when I'm with you. I love myself through you. I love seeing myself through your eyes. I love seeing myself through my eyes imagining how I look through your eyes. I love having someone new to tell my stories to, to express my opinions, and to share my profound theories and beliefs about the important things in life.
A Narcissist's Love Letter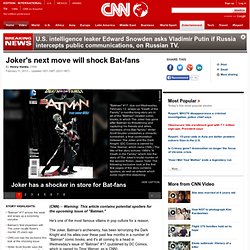 "Batman" #17, due out Wednesday, February 13, wraps up "Death of the Family," a months-long story arc in all of the "Batman"-related comic books, in which The Joker has gone after Batman by threatening and capturing his friends and allies, members of his Bat-"family." Writer Scott Snyder unleashes a climactic bombshell, a final confrontation between The Joker and the Dark Knight. (DC Comics is owned by Time Warner, which owns CNN.)
Joker's next move will shock Bat-fans
Home — My Little Love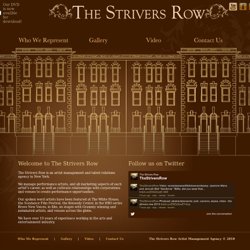 Welcome to The Strivers Row The Strivers Row is an artist management and talent relations agency in New York. We manage performance artists, and all marketing aspects of each artist's career, as well as cultivate relationships with corporations and venues to create performance opportunities. Our spoken word artists have been featured at The White House, the Sundance Film Festival, the Kennedy Center, in the HBO series Brave New Voices, in film, on stages with Grammy winning and nominated artists, and venues across the globe. We have over 10 years of experience working in the arts and entertainment industry.
The Strivers Row
The Infinite Jukebox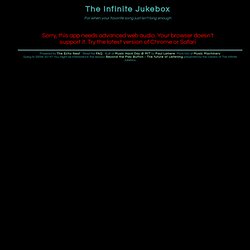 You can tune control the frequency and quality of the branching. See the FAQ for more details. Branch Similarity Threshold: 50 Higher Quality More Branches Branch Probability Range: 18 % to 50 % Low High
Aerial Photos of Giant Google-Funded Solar Farm Caught in Green Energy Debate | Raw File
One big problem with renewable energy projects is that they have to go somewhere . They have to occupy a part of the very environment that their proponents are often trying to save. Photographer Jamey Stillings beautifully captures this tension in his images of the Ivanpah Solar Electric Generating System (ISEGS).
Drunken Absurdity
Cute Fun Kawaii by MooshCreations on Etsy
Howl's Moving Castle Video by Jose - Myspace Video
vat19com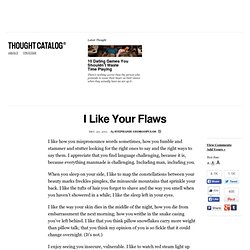 I like how you mispronounce words sometimes, how you fumble and stammer and stutter looking for the right ones to say and the right ways to say them. I appreciate that you find language challenging, because it is, because everything manmade is challenging. Including man, including you.
Setgo - Sharp and Innovative Bags, Wallets, and Money Clips
first image the online 'museum of endangered sounds' preserves the endangered and extinct sounds of archaic technology created by american brendan chilcutt, the ' museum of endangered sounds ' is an online archive of the archaic noises of technology: the connecting of 56k modems, loading of VCRs, and operators of payphones. additional clips include a skipping CD and the gameplay music of 'mind maze' (the quiz game built into early versions of microsoft encarta). currently the 'museum of endangered sounds' features fifteen 'exhibits', but chilcutt plans to add more. eventually he intends to develop a markup language to encode the sounds as binary compositions, preserving them for future generations.
museum of endangered sounds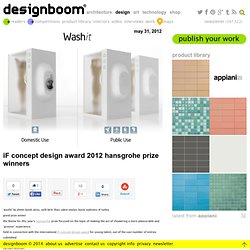 first image 'washit' by ahmet burak aktas, salih berk ilhan, adem onalan, burak soylemez of turkey grand prize winner the theme for this year's hansgrohe prize focused on the topic of making the act of showering a more pleasurable and 'greener' experience. held in connection with the international iF concept design award for young talent, out of the vast number of entries submitted 150 shortlisted projects were evaluated by a jury; andreas haug, phonex design, stuttgart; jan heisterhagen and dr. carsten tessmer, both of hansgrohe SE, schiltach who awarded the following prizes to six international teams: top entry, 'iWashit' designed by ahmet burak aktas, salih berk ilhan, adem onalan, burak soylemez of turkey is a shower / washing machine combination. greywater from a shower is collected, cleaned and filtered to be used for doing a load of laundry. the shower / washing machine combo allows users to collect the greywater from their shower, filter it and use it to wash a load of laundry
iF design award 2012 - hansgrohe prize winners
Campeggi srl
www.stumbleupon.com/submit?url=http%3A%2F%2Fdornob.com%2Fsmall-space-furniture-piece-is-a-tiny-multipurpose-solution%2F