Recipes
Recipes 10-12 Months. Food - Recipes : Cheese scones. Traditional British Recipes: Traditional Crumpet Recipe. Crumpets are the quintessential, afternoon tea treat, served warm with lots of butter.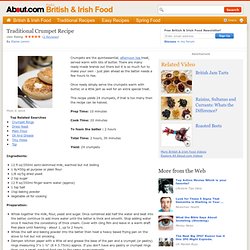 There are many ready-made brands out there but it is so much fun to make your own - just plan ahead as the batter needs a few hours to rise. Once ready simply serve the crumpets warm with butter, or a little jam as well for an extra special treat. This recipe yields 24 crumpets, if that is too many then the recipe can be halved. River Cottage Community Recipes. 1.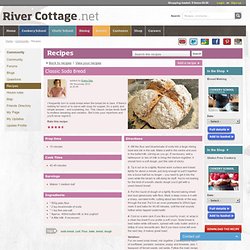 Sift the flour and bicarbonate of soda into a large mixing bowl and stir in the salt. Make a well in the centre and pour in the buttermilk, stirring as you go. If necessary, add a tablespoon or two of milk to bring the mixture together; it should form a soft dough, just this side of sticky. Posie Gets Cozy: My Go-To Birthday Cake. For many, many years, one of both parts of this cake have made their ways into almost every birthday cake I've baked for someone else or requested for my own birthday.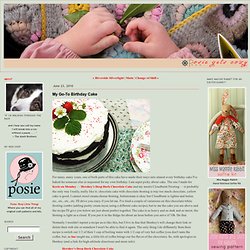 I am super picky about cake. The one I made for Keels on Monday — Hershey's Deep Dark Chocolate Cake and my mom's Cloudburst Frosting — is probably the only way I really, really like it; chocolate cake with chocolate frosting is way too much chocolate, yellow cake is good, I cannot stand cream-cheese frosting, buttercream is okay but Cloudburst is lighter and better, etc., etc., etc., etc. I'll drive you crazy if you let me. - StumbleUpon. Food - Recipes : Pumpkin ravioli with sage butter.
Food - Recipes : Blueberry muffins. Food - Recipes : Gruyère and courgette muffins. Coconut Macaroons. Macaroons are probably one of the easiest cookies that you can make.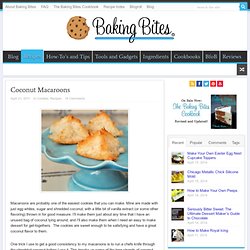 Mine are made with just egg whites, sugar and shredded coconut, with a little bit of vanilla extract (or some other flavoring) thrown in for good measure. I'll make them just about any time that I have an unused bag of coconut lying around, and I'll also make them when I need an easy to make dessert for get-togethers. The cookies are sweet enough to be satisfying and have a great coconut flavor to them. One trick I use to get a good consistency to my macaroons is to run a chefs knife through the shredded coconut before I use it. This breaks up some of the long strands of coconut and ensures that you get a macaroon that doesn't fall apart when you bite into it. Cruft: Lasagna Cupcakes. When Intelligentsia Coffee opened in Pasadena recently, I was intrigued the lasagna cupcakes they served.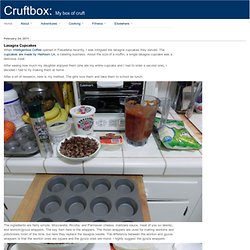 The cupcakes are made by Heirloom LA, a catering business. About the size of a muffin, a single lasagna cupcake was a delicious meal. Over 100 Quick and Easy Recipes. We Have Preparation and Cooking Times of 30 Minutes or Less The majority of recipes we offer can be both prepared and cooked in 30 minutes or less, from start to finish.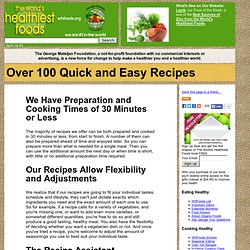 A number of them can also be prepared ahead of time and enjoyed later. So you can prepare more than what is needed for a single meal. Then you can use the additional amount the next day or when time is short, with little or no additional preparation time required. Cinnamon Sugar Pull-Apart Bread. Looks yummy, right?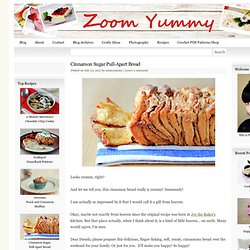 And let me tell you, this cinnamon bread really is yummy! Immensely! I am actually so impressed by it that I would call it a gift from heaven. Okay, maybe not exactly from heaven since the original recipe was born in Joy the Baker's kitchen. 45 Healthy Foods to Make and Never Buy Again. Nix those suspicions that good, homemade and healthy food comes with an exorbitant price tag.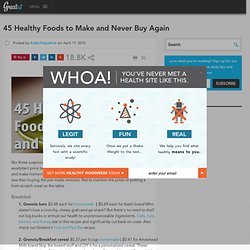 We found exactly the opposite, actually. If we roll up our sleeves and make homemade pasta, cookies, or just about any other food, it costs a whole lot less than buying the pre-made versions. Not to mention the pride of putting a from-scratch meal on the table. LoveIt. The Food in my Beard. Picture the Recipe. The best new recipes from Smitten Kitchen. Broccoli parmesan fritters. Last week, it was pointed out to me that among the 750 recipes in the archives, there is but a single recipe that utilizes broccoli.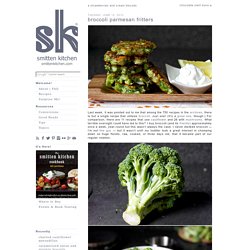 Just one! (It's a great one, though.) For comparison, there are 11 recipes that use cauliflower and 26 with mushrooms. Brown Butter Double Fudge Chocolate Chip Cookie Dough Cookies. Little bit of a mouthful there.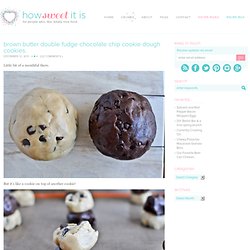 But it's like a cookie on top of another cookie! Yeah. Like total dirty cookie on cookie action. Except these ones down below wanted to try a few different positions. I dunno… they're all mixed up. Anchovy recipes. 1. For the choux: pre-heat oil in a tall saucepan to 190°C. Add 270 ml water and the butter to a separate saucepan with a pinch of salt and bring up to heat. When the butter has melted and just before it boils add the flour and beat in with a wooden spoon. It's ready when it leaves the sides of the pan. A brownie by any other name… | King Arthur Flour - Baking Banter.
Love brownies. Love their shiny, flaky top that shatters into micro-thin shards that shower onto your fingers as you eat. Love their dark, gooey center. Their "chocolate nirvana" flavor. Sometimes can't deal with the bake, wait to cool, cutting into squares messiness and fuss of brownies. Want something I can enjoy within 5 minutes of its exit from the oven. PinCookie.com - Design - How To Recipes - D.I.Y Crafts - Photos - Women's Apparel PinCookie.com. Most gawked all-time. Chocolate Guinness Cake Recipe. Get in the mood for St. Patrick's Day with this rich, chocolatey, moist, out-of-this-world chocolate guinness cake from Simply Recipes contributor Garrett McCord. And for more ideas, see our St. Patrick's Day recipes section. ~Elise. Cinnamon Roll Pancakes | RecipeGirl.com. Cinnamon Roll Pancakes Updated 9/22/11 to Add: If you're coming here to sample these delicious Cinnamon Roll Pancakes, you just might like the latest recipe that I've posted for Pumpkin Cinnamon Roll Pancakes too.
And Gingerbread- Cinnamon Roll Pancakes too. Enjoy! If you've ever thought you needed a reason to eat pancakes, today is the day: National Pancake Day. Punchfork - The best new recipes from top food sites. How To Make Perfect Brownies | How To Cook Like Your Grandmother.
LoveIt. Design Crush & Popsicles! Nigella Lawson's Christmas Rocky Road: Recipes. Most favorited all-time. The Infamous Jacques Torres Chocolate Chip Cookies.
---