Easy programming
One of the most buzzed-about startups over the last few months has been Codecademy — a site that looks to make programming accessible to just about anyone, with a variety of interactive, web-based courses that have users writing their first lines of code within a few seconds. The site's 'Code Year' program, which invites users to receive one programming lesson each week, racked up a whopping 100,000 signups in only 48 hours — and it even has the White House on board. But, as anyone who has spent much time on the site can attest to, Codecademy has had one big problem: there just aren't that many lessons available.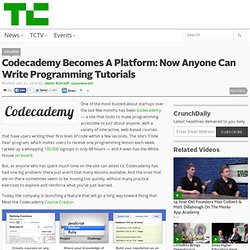 Codecademy Becomes A Platform: Now Anyone Can Write Programming Tutorials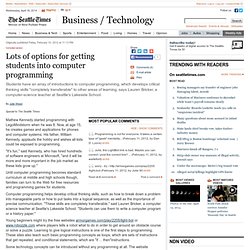 Lots of options for getting students into computer programming
Mathew Kennedy started programming with LegoMindstorm when he was 8. Now, at age 15, he creates games and applications for phones and computer systems.
Introducing Programming to Preschoolers
Teaching Strategies Flickr: AngryJulieMonday By Heather Chaplin Since MIT's Lifelong Kindergarten group released Scratch in 2007, kids ages 8 to 13 have built more than 2.2 million animations, games, music, videos and stories using the kid-friendly programming language. Scratch allows kids to snap together graphical blocks of instructions, like Lego bricks, to control sprites—the movable objects that perform actions.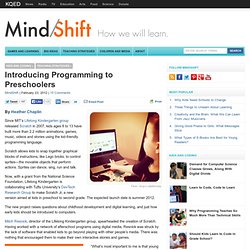 App Inventor Edu | Playing with blocks, building apps
Program or Be Programmed eBook: Douglas Rushkoff, Leland Purvis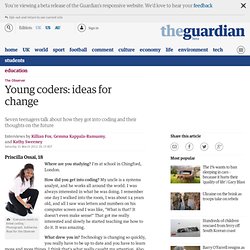 Priscilla Ossai, 18 Where are you studying?
Young coders: ideas for change | Education | The Observer
mputer science: the teachers' view: 'There is only so much Powerpoint and Word that you can teach' | Education | The Observer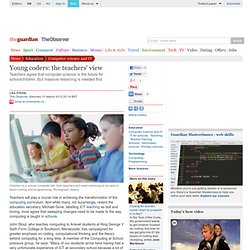 Teachers will play a crucial role in achieving the transformation of the computing curriculum. And while many, not surprisingly, resent the education secretary, Michael Gove, labelling ICT teaching as dull and boring, most agree that sweeping changes need to be made to the way computing is taught in schools. John Stout, who teaches computing to A-level students at King George V Sixth Form College in Southport, Merseyside, has campaigned for greater emphasis on coding, computational thinking and the theory behind computing for a long time.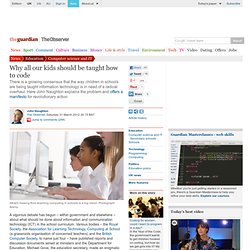 A vigorous debate has begun – within government and elsewhere – about what should be done about information and communication technology (ICT) in the school curriculum. Various bodies – the Royal Society, the Association for Learning Technology, Computing at School (a grassroots organisation of concerned teachers) and the British Computer Society, to name just four – have published reports and discussion documents aimed at ministers and the Department for Education.
A radical manifesto for teaching computing | Education | The Observer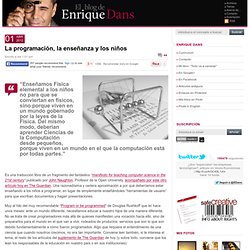 Es una traducción libre de un fragmento del fantástico "manifesto for teaching computer science in the 21st century" publicado por John Naughton, Profesor de la Open University, acompañado por este otro artículo hoy en The Guardian. Una razonadísima y certera aproximación a por qué deberíamos estar enseñando a los niños a programar, en lugar de simplemente enseñándoles "herramientas de usuario" para que escriban documentos y hagan presentaciones. Muy al hilo del muy recomendable "Program or be programmed" de Douglas Rushkoff que leí hace unos meses: ante un mundo diferente, necesitamos educar a nuestro hijos de una manera diferente. No se trata de crear programadores más allá de quienes manifiesten una vocación hacia ello, sino de prepararlos para el mundo en el que van a vivir, rodeados de productos servicios que son lo que son debido fundamentalmente a cómo fueron programados. Algo que requiere el entendimiento de una ciencia que cuando nosotros crecimos, no era tan importante.
La programación, la enseñanza y los niños
A manifesto for teaching computer science in the 21st century | Education | The Observer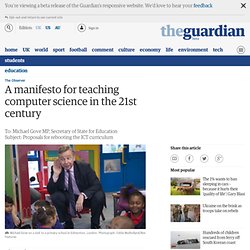 1. We welcome the clear signs that the government is alert to the deficiencies in the teaching of information and communications technology (ICT) in the national curriculum, and the indications you and your ministerial colleagues have made that it will be withdrawn and reviewed.