TOOLS
Task Force on Finance Statistics (TFFS)
Development policy - EU Donor Atlas 2010
EU Publications Office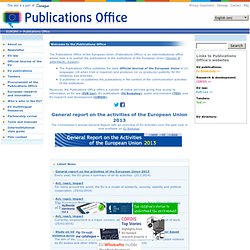 The Publications Office of the European Union (Publications Office) is an interinstitutional office whose task is to publish the publications of the institutions of the European Union ( Decision N° 2009/496/EC, Euratom ). The Publications Office publishes the daily Official Journal of the European Union in 22 languages (23 when Irish is required) and produces (or co-produces) publicity for EU initiatives and activities. It publishes or co-publishes the publications in the context of the communication activities of the institutions. Moreover, the Publications Office offers a number of online services giving free access to information on EU law ( EUR-Lex ) , EU publications ( EU Bookshop ) , public procurement ( TED ) , and EU research and development ( CORDIS ) .
Archives historiques
AUDIO VIDEO Ressources
FACTSHEETS on the EU
The Fact Sheets were created in 1979 for Parliament's first direct elections. Since then, they have been regularly reviewed and revised. They are intended to provide non specialists with a straightforward and concise overview of the European Union's institutions and policies , and of the role that Parliament plays in their development.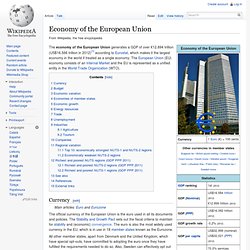 [ edit ] Energy resources The European Union has large coal, oil , and natural gas reserves . There are six oil producers in the European Union, primarily in North Sea oilfields . The United Kingdom by far is the largest producer, however Denmark, Germany, Italy, Romania and the Netherlands all produce oil. If it is treated as a single unit, which is not conventional in the oil markets, the European Union is the seventh largest producer of oil in the world, producing 3,424,000 (2001) barrels a day. It is also the world's second largest consumer of oil , consuming much more than it can produce, at 14,590,000 (2001) barrels a day.
Economy of the European Union
This survey looks into attitudes and perceptions of Europeans towards discrimination, based on different grounds (gender, ethnic origin, religion or beliefs, age, disability, sexual orientation and gender identity). As the last Eurobarometer on this topic, from 2009, this survey also includes several questions on the impact of the crisis on the implementation of anti-discrimination policies and efforts. New questions have been added to cover important or emerging topics, such as the situation of the Roma in Europe, discrimination outside the workplace or the links between discrimination and accessibility. Perceptions on discrimination against transsexual and transgender persons are also explored for the first time.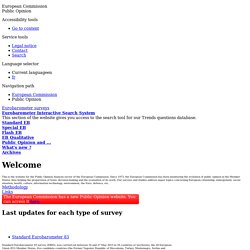 EUROBAROMETER