MAC
Steve Jobs (1955 – 2011) Steve Jobs (1955 – 2011) Presentation Keynote Themes. Start. 12 Cool Stickers for your iPad. Unusual sticker can separate you from other iPad owners.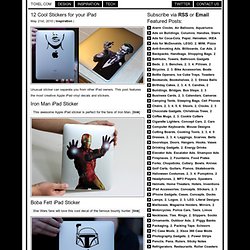 This post features the most creative Apple iPad vinyl decals and stickers. Iron Man iPad Sticker. AdFreak: Apple Get a Mac: The Complete Campaign.
News
Tips & Tricks. The Evolution of Apple Ads. Apple first started advertising its products in the late 1970s.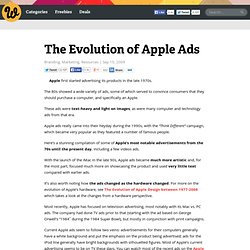 The 80s showed a wide variety of ads, some of which served to convince consumers that they should purchase a computer, and specifically an Apple. These ads were text-heavy and light on images, as were many computer and technology ads from that era. Apple ads really came into their heyday during the 1990s, with the "Think Different" campaign, which became very popular as they featured a number of famous people. Here's a stunning compilation of some of Apple's most notable advertisements from the 70s until the present day, including a few videos ads. With the launch of the iMac in the late 90s, Apple ads became much more artistic and, for the most part, focused much more on showcasing the product and used very little text compared with earlier ads.
---