BEADS
FUSION BEADS
Global
LESLEY MCFARLAND
ROCKING RABBIT BEADS
BEADSISTERS
Welcome to the Web Site of Contemporary Beads and Castings, Inc. Contemporary Beads & Castings, Inc. offers lead safe pewter beads, charms and findings made in the USA. It sells wholesale only. In addition, the company wholesales ceramic beads, rubber beads, fimo polymer clay beads and pendants. The range of base metal components includes pewter beads, clasps, spacers, charms, pendants, bookmarks and other components that are sold to jewelry designers, craft stores and a number of other industries.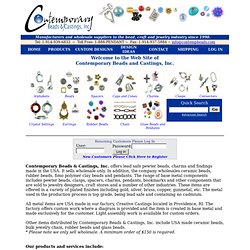 CONTEMPORARY BEADS
STARLIGHT BEADS
WILD ABOUT BEADS
BOJANGLES
PANDAHALL
E-BEADS
CREATIVE BEADCRAFT
Our range of pendants and charms at The Bead Shop is plentiful in both choice and quality and we have quirky, fun and stylish designs to accessorise any jewellery item.
THE BEAD SHOP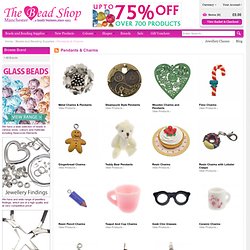 VOODOO BEADS
THE BEAD SHOP
AFRICAN TRADE BEADS
LOOK FOR MORE BEADS (including carnelian, agate and quartz) MID FEBRUARY 2014 AF530. The beaded part of this vintage apron from the Camaroon is 15 1/2 inches wide and 6 1/4 inches tall, with the pendants and shells attached the entire height is 10 1/2 inches. The intricate beadwork is nicely done with open spaces in the middle of the X's. The colours are rich, warm and beautiful together. These are worn by Kirdi women and called "cache-sex" aprons as they hide their sexual parts. $145.US.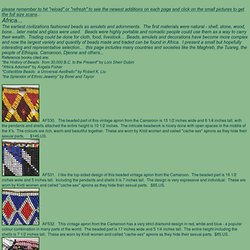 TRIBU
BEADSNEEDS
GHANA CAST
BEADSHOPUK
WINDHORSE IMPORTS
THE BEADSTER
ALCHEMY AND ICE
BEADS UNLIMITED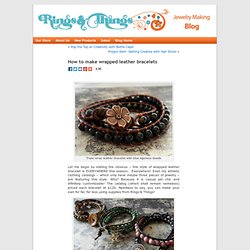 Triple-wrap leather bracelet with blue tigereye beads Let me begin by stating the obvious – this style of wrapped leather bracelet is EVERYWHERE this season. Everywhere!
SANCTUARY BEADS