BEADS
FUSION BEADS
Global
LESLEY MCFARLAND
ROCKING RABBIT BEADS
BEADSISTERS
JILLYBEADS
Welcome to the Web Site of Contemporary Beads and Castings, Inc. Contemporary Beads & Castings, Inc. offers lead safe pewter beads, charms and findings made in the USA. It sells wholesale only. In addition, the company wholesales ceramic beads, rubber beads, fimo polymer clay beads and pendants. The range of base metal components includes pewter beads, clasps, spacers, charms, pendants, bookmarks and other components that are sold to jewelry designers, craft stores and a number of other industries.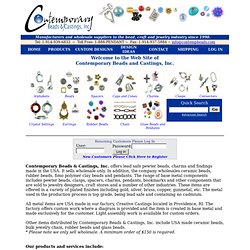 CONTEMPORARY BEADS
GEMSTONE BEADS
BIJOUX BEADS
STARLIGHT BEADS
WILD ABOUT BEADS
This site uses some unobtrusive cookies to store information on your computer. We also use some non-essential cookies to anonymously track visitors or enhance your experience of the site. If you're not happy with this, we won't set these cookies but some nice features of the site may be unavailable.Some cookies on this site are essential, and the site won't work as expected without them.
BOJANGLES
PANDAHALL
E-BEADS
CREATIVE BEADCRAFT
THE BEAD SHOP
VOODOO BEADS
THE BEAD SHOP
AFRICAN TRADE BEADS
please remember to hit "reload" or "refresh" to see the newest additions on each page and click on the small pictures to get the full size scans ... Africa... The earliest civilizations fashioned beads as amulets and adornments. The first materials were natural - shell, stone, wood, bone... later metal and glass were used. Beads were highly portable and nomadic people could use them as a way to carry their wealth. Trading could be done for cloth, food, livestock...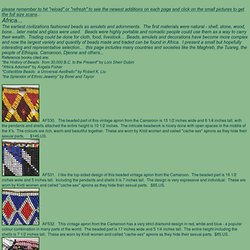 TRIBU
BEADSNEEDS
CRYSTALS AND ICE
GHANA CAST
BEADSHOPUK
WINDHORSE IMPORTS
THE BEADSTER
ALCHEMY AND ICE
BEADS DIRECT
CONSTELLATION BEADS
All our prices already include VAT. Order five times or more of any identical wholesale quantity for a 10% discount. Product: pendants / charms Material: aluminium Size: 45mm Colour: silver coloured Please use the BUY buttons to buy the pendant/charms below.
BEADS UNLIMITED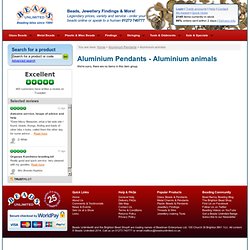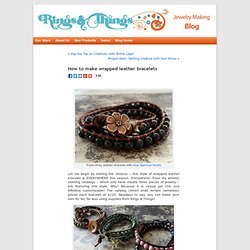 Triple-wrap leather bracelet with blue tigereye beads Let me begin by stating the obvious – this style of wrapped leather bracelet is EVERYWHERE this season. Everywhere!
YUMYUM BEADS
SANCTUARY BEADS