Twitter
"The average estimate themselves by what they do, the above average by what they are." Johann Friedrich Von Schiller What makes your brand unique ? Brand reputation is made nowadays as much online as in the real world, ask Nespresso or LeShop two successful and innovative Swiss brands.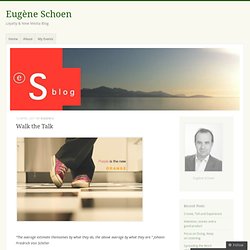 Walk the Talk | Eugène Schoen
The State of Twitter in 2013 [INFOGRAPHIC]
Walk the Talk | Eugène Schoen
You all know that my social media "first love" is definitely Twitter, especially when you look at the time I spend on it, how many followers I have, and the number I follow. That said, this past year I have been spending almost an equal amount of time on Facebook, Google and Instagram, nurturing and growing my community on these platforms.
Social Media Sharing: When Is It Too Much?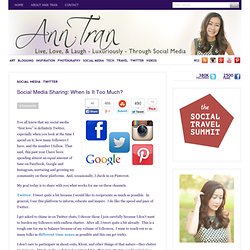 Inside the Twitterverse | Arianna Huffington
25 Twitter Tips To Help You Tweet Like A Pro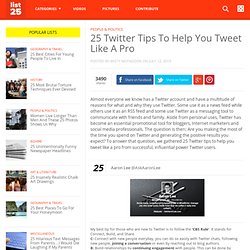 Almost everyone we know has a Twitter account and have a multitude of reasons for what and why they use Twitter. Some use it as a news feed while others use it as an RSS feed and some use Twitter as a messaging tool to communicate with friends and family.
Social listening is the modern marketing practice of staying constantly attuned to your customers, fans, and followers, leveraging their free insight into your brand or business and engaging in a two-way social dialogue. Twitter is a rich resource for social listening, with millions of conversations proliferating daily across the network about a wide range of companies and brands.
10 Tips For Being A Better Listener On Twitter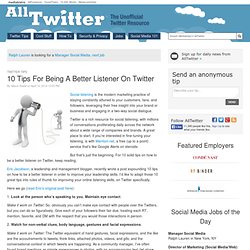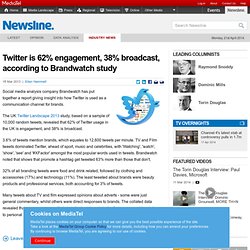 Twitter is 62% engagement, 38% broadcast, according to Brandwatch study
Social media analysis company Brandwatch has put together a report giving insight into how Twitter is used as a communication channel for brands. The UK Twitter Landscape 2013 study, based on a sample of 10,000 random tweets, revealed that 62% of Twitter usage in the UK is engagement, and 38% is broadcast.
This is the latest post in our series, TwitterPowerhouses, which focuses on the contributions of people who've helped to expand, influence, and redefine how we view social networking. What inspires you? The answer to that question can be found in the timeless words of a visionary leader or literary giant, the stunning beauty of historical landmarks and modern marvels, or the fighting spirit and the responsibility to support causes that speak to the very best of what humanity has to offer. Or, all of the above. Truly, inspiration is a brand than can never be oversold.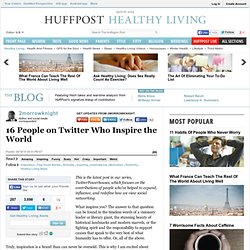 2morrowknight: 16 People on Twitter Who Inspire the World
Twitter was never meant to be a social network. In fact it was created as a message service at a private podcast company just over 5 years ago. Today with over 200 million users and serving up over 1.6 billion enquiries a day, Twitter has evolved into a real time social network that spreads news, messages, links and multimedia with energy saving 140 character bursts. It is also maybe the most efficient social network in the top five and that is part of its unique charm. It is simple and doesn't overcomplicate things….. that is why texting and SMS is still popular even with teenagers in a world of tempting rich multimedia. Twitter is still working out its business model with its only apparent revenue being "sponsored tweets" which are expensive and only make sense for a major brand to implement as part of its marketing plans.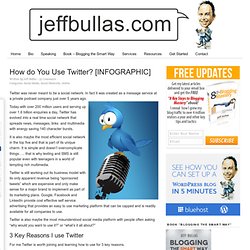 Database Error
25 Things You Can Do When Twitter Goes Down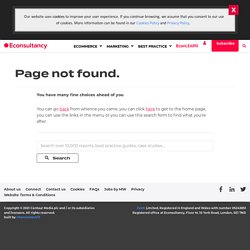 12 social signals from Twitter that could influence search rankings
We know that Google uses hundreds of ranking factors to determine where it places web pages in its index. We also know that social media sites are becoming increasingly influential on search placements. Charles Duncombe explored the topic on this blog a few days ago, focusing mainly on volume-based signals. I think there's probably a bit more to it than that, or at least there should be. This is a think-out-loud 'Friday' post, rather than a definitive guide to the things Googlebot is sniffing out (for I know not what it looks for). It considers the possibilities, to explore what Google might be able to make sense of.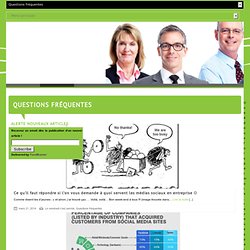 Qu'est-ce que je peux tweeter, ch'sais pas quoi tweeter... Vous aimeriez vous lancer sur Twitter mais... vous n'avez aucune idée de quoi parler ? Vous angoissez à l'idée de vous limiter à 140 caractères ?
The Power of Connectivity on Twitter | Web City Girls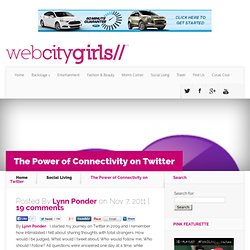 By Lynn Ponder : I started my journey on Twitter in 2009 and I remember how intimidated I felt about sharing thoughts with total strangers. How would I be judged, What would I tweet about, Who would follow me, Who should I follow? All questions were answered one day at a time, while falling in-love with everything about Twitter! Twitter is about learning, educating and inspiring, plus for me, a channel to share my passion on positive life views, spread kindness and genuinely engage with likeminded people. The magic of Twitter is evident just in the fact that by reading each others 140 character tweets, we are capable of developing friendships and business relationships in the same way we do in the real world, but this experience is completely virtual, and a mind blowing experience for me.
With Twitter making a lot of big changes at the end of 2011, one of the changes that we caught a glimpse of was Twitter brand pages . A few select brands were given the chance to try out the new service, including Coca-Cola, McDonalds, Staples and HP. A new study from Simple Usability gives a bit of insight into how users are reacting to and interacting with the latest social media marketing tools that has been afforded to brands. Twitter's first real attempt to compete with Facebook and Google+'s feature-rich offerings for brands is quite stripped down in comparison to its competitors, but it doesn't really matter if the message is reaching its audience.
Tips for Twitter Brand Pages
Seven Things That Make Twitter Even More Relevant
In last week's blog post I've tried to give you some tips on how to be successful on LinkedIn . This week's post is all about Twitter. Being on Twitter is a great opportunity to market your small business . Want to tweet but don't know how? I will try to explain the do's and don'ts and introduce you to some basic Twitter tools that will make participating in Twitter regularly easy
Guide To Twitter – Tips for Small Businesses
Twitter rolls out new look
Twitter has started to roll out a new look, starting this evening . A blog post announced that the company has simplified the design to make it easier than ever to follow what people care about, connect with others and discover something new. Over the next few weeks this will appear on Twitter.com, mobile and even Tweetdeck.
Twitter To Launch Redesigned Tweet & Follow
Twitter has been sporting the blueish Tweet button since it was launched, and nothing has really been changed with it since. I am sure that most people who have been on Twitter since the social networking giant's early days know that in the beginning, Twitter used "Update" instead of "Tweet" to send out our thoughts and shares. However, since Twitter changed the label on the button, it seems things have pretty much been the same.
Realms 2.0 • Twitter intéresse les marques!
Twitter Is Quietly Building A Huge Business
Twitter's Global Impact (Infographic) | Social Networking & Micro-Blogging | Twitter Users & Lady Gaga, Justin Bieber & Britney Spears
Twitter Make Intuitive Changes To Site: Revamped Replies And Activity Functions
Twitter Business Guide
3 Tips To Increase Clicks On Your Tweets By 200%
Twitter, faster than earthquakes
10 amazing Twitter infographics
The Power of ReTweeting: The 7 Reasons to RT on Twitter
The Great Twitter Unfollow Experiment of 2011
8 Ways Twitter Can Make You A Better Person
Walk the Talk « Eugène Schoen
The do's and don'ts of Twitter hashtags
Twitter Just Got the Respect it Deserves
Where Is Twitter Headed? The 3 Massive Changes « Twitter Tips And Updates From Buffer
Why Twitter Matters To Marketers Now More Than Ever
What Twitter should to do improve the experiences of its users
How to Expand Your Twitter Reach
How to Brand Your Twitter Profile | Dougles Chan – The Recruitment Guru
Five to Follow on Twitter for Mobile 'Treps
Top 10 Ways to Improve Your Twitter Image & Following
How Twitter Giants Manage Their Time-lines
The Science of Tweeting: A Look At the Best Times To Tweet
jeffbullas
Infographic explores Twitter's incredible 5-year journey
How brands use twitter ? on Vimeo