Swiss ICT Ventures
eBay buys Zong, the mobile payment specialist created in Geneva. Created in Geneva by David Marcus, Zong has been bought 240 Million USD by eBay to boost PayPal's mobile payment technology and ensure a strategic advantage in the development of the digital wallet of the future.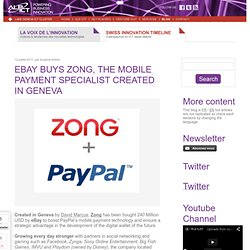 Growing every day stronger with partners in social networking and gaming such as Facebook, Zynga, Sony Online Entertainment, Big Fish Games, IMVU and Playdom (owned by Disney), the company located today in Palo Alto is destined to play a key role PayPal's future plans to transform the mobile payment business worldwide. As David Marcus demonstrates in the following video by TechCrunch, Zong offers today a seamless, frictionless and secure mobile payment service for digital goods in 21 languages and 45 countries: The future of mobile payment is promising and companies like Zong show all the potential of Western Switzerland startups and Swiss entrepreneurs in the very competitive ICT global market. Xb83studio décroche un soutien financier de la fondation « Seed Capital Fribourg » COMMUNIQUE DE PRESSE – Fribourg, le 8 septembre 2011 – xb83studio a séduit les investisseurs avec la création d'un nouveau produit technologique lié à la téléphonie mobile: SKEEBLE.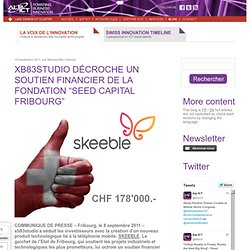 Le guichet de l'Etat de Fribourg, qui soutient les projets industriels et technologiques les plus prometteurs, lui octroie un soutien financier de CHF 178'000.- . Un outil pour créer une application smartphone SKEEBLE donne l'opportunité de créer sa propre application smartphone en s'appuyant sur des modules prêts à l'emploi et toute une palette d'options que l'on active en fonction de son activité et de ses besoins. La création de l'application est donc réalisée de manière 100% autonome par le client lui-même.
La procédure est aussi aisée que de remplir un formulaire électronique: choisir l'option désirée, la présentation graphique, cliquer, valider et le tour est joué. Around Klewel » Klewel will launch new Conference Webcast product named Triskel at IBC 2011. Home > Uncategorized > Klewel will launch new Conference Webcast product named Triskel at IBC 2011 En français ci-dessous.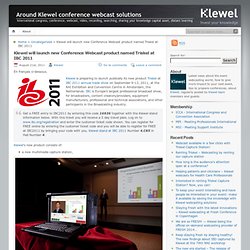 Klewel is preparing to launch publically its new product Triskel at IBC 2011 annual trade show on September 9-13, 2011, at the RAI Exhibition and Convention Centre in Amsterdam, the Netherlands. Lotaris secures Series A Funding from major institutional investors. Vickers Venture Partners, an early-stage venture firm with offices in Shanghai and Singapore have recently announced an investment of USD 9.5 million with co-investors, Credit Suisse (through its investment vehicle SVC AG) and Lausanne-based Eurofin Capital (through its Eurofin Ventures Team) in Lotaris, the Swiss mobile technology company.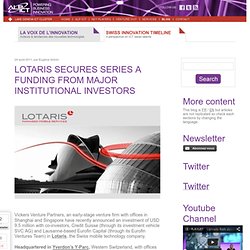 Headquartered in Yverdon's Y-Parc, Western Switzerland, with offices in Dubai, the U.S., South Africa, Brazil, Mexico, India and China, Lotaris is a pioneer of behavior-based mobile applications management from one global platform. Providing services to large mobile software vendors and their commercial partners, Lotaris technology imbedded in their applications allows them to generate revenue based on precisely what their end-users want to do within their mobile apps, whether it is a game, mobile security solution, or high-end enterprise mobile software.