Speech Recognition
Amazon Quietly Buys Voice Recognition Start-Up That Could Rival Siri. Amazon seems to have secretly snapped up the voice-to-text and speech recognition company Yap, which could be a match for Apple's new voice-controlled personal assistant Siri.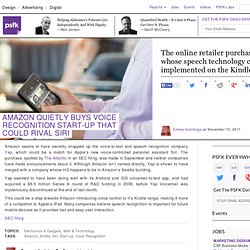 The purchase, spotted by The Atlantic in an SEC filing, was made in September and neither companies have made announcements about it. Although Amazon isn't named directly, Yap is shown to have merged with a company whose HQ happens to be in Amazon's Seattle building. Yap seemed to have been doing well with its Android and iOS voicemail-to-text app, and had acquired a $6.5 million Series A round of R&D funding in 2008, before Yap Voicemail was mysteriously discontinued at the end of last month. Why Google And Microsoft Are Bad-Mouthing Apple's Chatty Siri. Google's head of Android, Andy Rubin, discussed some surprising things at the AllThingsD conference, including the controversial notion that there shouldn't be a distinction between tablet apps and phone apps.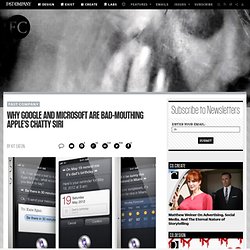 He also took a dig at Apple's Siri interface: "I don't believe your phone should be an assistant...Your phone is a tool for communicating," he opined, "You shouldn't be communicating with the phone; you should be communicating with somebody on the other side of the phone. " Perhaps Rubin forgot that Android runs apps, tens of thousands of them, and only a handful are about telephony.
Perhaps he also forgot about: Google Voice Search and Google Goggles, which are alternative voice- and image-based ways of interacting with your phone, and about Google's search database, or the voice control that Google laced into Android from the start. Maybe he was feeling nostalgic for the days before the "smart" prefixed the phone? Siri,Quora, And The Future Of Search. Editor's note: Contributor Dan Kaplan leads Product Marketing for Twilio and writes occasionally about the extrapolation of the present into the future.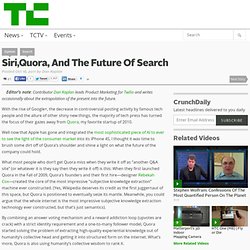 With the rise of Google+, the decrease in controversial posting activity by famous tech people and the allure of other shiny new things, the majority of tech press has turned the focus of their gazes away from Quora, my favorite startup of 2010. Well now that Apple has gone and integrated the most sophisticated piece of AI to ever to see the light of the consumer market into its iPhone 4S, I thought it was time to brush some dirt off of Quora's shoulder and shine a light on what the future of the company could hold.
Apple iPhone 4S' Siri says the darnedest things. The new Apple iPhone 4S can do more than just check e-mail and make phone calls.
It's also turning into a new — sometimes sassy, often entertaining — digital friend for millions of consumers. The most touted new feature, the Siri personal digital assistant, has, hidden in the software, dozens of humorous responses to silly questions. MORE: Talking Your Tech stories and videos Consumers are asking Siri for dates, marriage, sexual advice, math equations and even crazy stuff like where to hide a dead body.
---