Social media
Social@Ogilvy. Years of thinking social archives > This past week there has been a lot of news (not all of it for the right reasons)on Twitter's new photo application, Vine.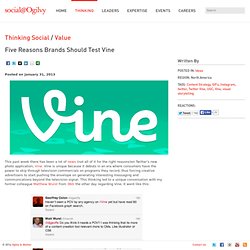 Vine is unique because it debuts in an era where consumers have the power to skip through television commercials on programs they record, thus forcing creative advertisers to start pushing the envelope on generating interesting messaging and communications beyond the television signal. This thinking led to a unique conversation with my former colleague Matthew Wurst from 360i the other day regarding Vine. It went like this: Make Your LinkedIn Profile Irresistible. Social Media 2013 | New Music.
7 Warning Signs You're Using Social Media Wrong. So you've been using social media for awhile.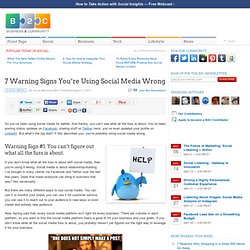 And frankly, you can't see what all the fuss is about. You've been posting status updates on Facebook, sharing stuff on Twitter, heck, you've even updated your profile on LinkedIn. But what's the big deal? Learnings from My Pinterest Experiment. An In-Depth Look at the Science of Twitter Timing. If you've been following KISSmetrics for the last week or two, you have probably enjoyed our in-depth look at the science of blog timing and Facebook timing.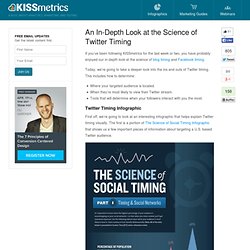 Today, we're going to take a deeper look into the ins and outs of Twitter timing. This includes how to determine: Where your targeted audience is located.When they're most likely to view their Twitter stream.Tools that will determine when your followers interact with you the most. Twitter Timing Infographic. Twitter: Better to use a company or personal account in B2B? Not long ago, a user on our site asked me, "In terms of growing our B2B business through social media, and in particular with regard to Twitter, should we focus on our company or personal social media accounts?"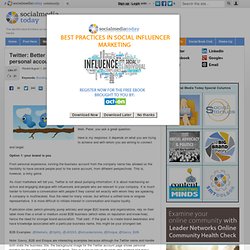 Well, Peter, you ask a great question. Here is my response: it depends on what you are trying to achieve and with whom you are aiming to connect and target. Option 1: your brand is you From personal experience, running the business account from the company name has allowed us the flexibility to have several people post to the same account, from different perspectives. 5 Killer Ways To Rock Instagram For Business. In order for a company to break through the noise in today's social media landscape, it's necessary to be creative and dedicated.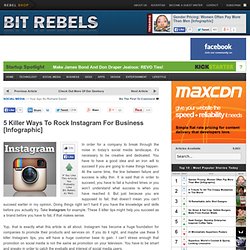 You have to have a good idea and an iron will to succeed if you are going to make things happen. At the same time, the line between failure and success is silky thin. Database Error. Google Wave was announced last year to much fanfare and expectation… it was the future of the social web!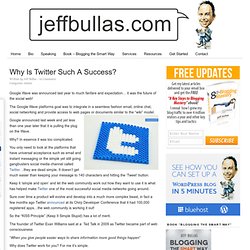 The Google Wave platforms goal was to integrate in a seamless fashion email, online chat, social networking and provide access to web pages or documents similar to the "wiki" model. Google announced last week and yet less than one year later that it is pulling the plug on the Wave. The Rise Of Visual Social Media. Social media sites like Facebook, Instagram, and Pinterest have ushered in visual marketing as the breakout trend for 2012.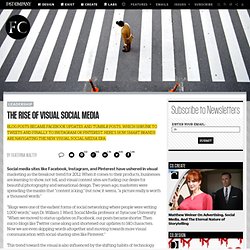 When it comes to their products, businesses are learning to show, not tell, and visual content sites are fueling our desire for beautiful photography and sensational design. Two years ago, marketers were spreading the maxim that "content is king," but now, it seems, "a picture really is worth a thousand words. " "Blogs were one of the earliest forms of social networking where people were writing 1,000 words," says Dr.
5 Fascinating Social Media Predictions for 2013. Note: This is a guest article by Nathan Brown.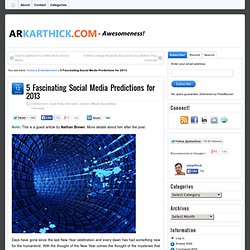 More details about him after the post. Days have gone since the last New Year celebration and every dawn has had something new for the humankind. With the thought of the New Year comes the thought of the mysteries that are in store. The scenes that flash in our mind when we hear the phrase 'New Year' are drinking wine and champagne, devouring the cake, and dancing with the crowd.
But what are we going to do from the next day? 60% of Facebook Users Will Discuss Brands That Offer Deals [Infographic] We've talked about a lot on this blog, but there are three things that just keep peeping up in our content -- the virtual ubiquity of social media, how mobile is transforming marketing, and the importance of user-generated content.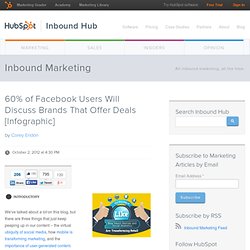 But we've rarely written about how all three of these concepts are working together to change the world of marketing. That's why we're pretty glad Symphona Teleca took on the task in this data-packed infographic, "The Meaning of Like," about the way smart devices and social analytics are completely transforming the retail space. Take a look at some eye-opening data about how shoppers are using social media and mobile devices, and how that is completely changing the way retailers market their products.
[Infographie] Facebook, Twitter, LinkedIn, Google + : les points forts de chaque réseau social. #socialmedia you say? • "Ideation" is the concept of crowdsourcing applied... Instagram By The Numbers - The Infographic. Simply mind blowing numbers by Instagram.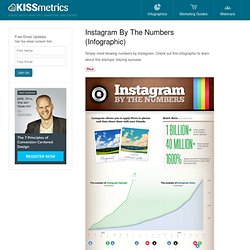 Check out this infographic to learn about this startups' blazing success. View an enlarged version of this infographic » 5 New Twitter Tools to Boost Your Marketing. Are you seeing the results you want from your Twitter activities? There are over 1,000,000 different apps for Twitter and a new one is added every second. This means it is often quite easy to get confused finding those that actually add real value to your day-to-day tweeting.
I took a look at some of the latest and most promising Twitter tools to get you tweeting like a pro. So, if you think it is time to up your game with some new tools, keep reading. Here are 5 tools to help you power up your Twitter marketing efforts. Pinterest: nine best practice tips for brands. Pinterest is essentially a site where users endorse and recommend images or products they have found, and also where they go to look for inspiration.
For this reason, it's well suited to fashion, beauty, interior design and weddings, and some 90% of its 12m strong user base is female. It also means that there is plenty of referral traffic to be had, and brands and businesses are now waking up to the potential of Pinterest for extending their online communities and driving conversions. We've previously highlighted 11 ways that brands can make use of Pinterest and looked at how the top US and UK retailers use Pinterest. Loyalty & New Media / How to spot an Instagram junkie. Social Media Infographics / How Pinterest Drives Online Sales. Pinterest: Top 100 Digital Marketing Boards. Facebook Tests Pinterest-Like Design for App Activity. Facebook Takes Action, Introduces Action Links to the Open Graph. By Brian Solis On June 4, 2012 In September 2011 at its f8 Developer Conference, Facebook introduced the social world to frictionless sharing and Action Verbs.
With the rollout of its Open Graph, the 900 million strong social network declared that the future of engagement would be driven by both implicit and explicit actions. 7 tips for improving your Instagram following. Hey, it wouldn't be a social media platform if there wasn't a following to attract, and Instagram is one place you may not have considered boosting your brand's presence until recently.
Well, let today be that day with these seven tips from Brian DiFeo at Social Fresh. After all, if images are such a powerful piece of the branding puzzle, then the world's most popular photo-sharing site is the place to be. 1. Pinterest: nine best practice tips for brands. Adam Bronkhorst Shows Us How To Take 'SnApp Shots' With Our Smartphones (PHOTOS) Pinterest: The New Pinnacle of Digital Marketing.
The Redesigned Foursquare Is About Radical Simplicity, And A New Way To Search. Fast Food Loves Facebook: Restaurant Chains on Social Media [INFOGRAPHIC] Hands-On With New Twitter Search. Suisse romande sur Twitter : portrait n°2. Social media campaign for Aston Martin drives 100% increase in traffic. 3 benefits of playing Empire Avenue. Why Pinterest Is So Addictive. 15 Great Chrome Extensions for Online Marketers. Infographic: Social Media – Unmeasurable Success? Spreading the Word of Excellence « Eugène Schoen.
The Latest Social Media Stats For 2012. Database Error. 7 Do's and Don'ts for Marketing With Pinterest. Foursquare on Facebook: Hands on With the New Timeline Integration. How Social Media Is Changing The Landscape Of Customer Service [INFOGRAPHIC] 3 Brilliant Social Media Marketing Campaigns & Why They Worked. Instagram for Android coming "very soon" A Hierarchy Of Social Communication: Know Your. Clip. A Map Of Your City's Invisible Neighborhoods, According To Foursquare. Loyalty & New Media / Pinterest for marketers. Twitter: An Increasingly Great Platform For Instagram. Does Instagram Make You a Better Photographer?
15 Fantastic Ways to Use Flipboard. 12 LinkedIn secrets to supercharge your social networking. Using location-based marketing to drive traffic to luxury hotels. 10 Creative Ways to Use Pinterest for Business | The Social Media Guide. Pinterest's Growth Explosion Continues. 3 Ways Your Brand Can Benefit From Pinterest. Twitter tops 140M active users, sees 340M tweets a day. Pinterest's iPad App Is on the Way. How to Use Pinterest for Public Relations. Newly redesigned Pinterest profile pages go live. Instagram finally lands on Android. Instagram & The Android Effect. How Pinterest Can Get Your Brand Attention [INFOGRAPHIC]
Life without Social Media: Better or Bitter. Job Networking with Social Media [INFOGRAPHIC] The buzz at SXSW, Day 3 highlights. The Power of Connectivity in social media. Facebook Timeline Is The Best Thing For Brands Since Pinterest. 20 Awesome Pinterest Tools. Instagram Appears to Have Passed 25 Million Users. Why Pinterest Is So Addictive. Our culture of portraits: From Andy Warhol to Instagram. 10 Simple Ways Social Media and Traditional Media Work Together « Radian6 - Social Media Monitoring and Engagement. The Art Of Creating Buzz. 14 new statistics about word of mouth marketing.
How Social Are the World's Most Valuable Brands? [Infographic] The State of the Twitterverse 2012. What's Driving Pinterest's Amazing Growth. Eight Ways to Engage Facebook Fans in Less Than 60 Seconds [Day 20 - 28 Days to BFL] Why Pinterest Is So Addictive. Here's How to Use Pinterest to Make a Big Announcement. It's Time to Pin Your Brand to Pinterest. 10 Reasons Pinterest Booked 10 Million Visitors a Month So Fast. Am. How Brands Listen (Or Don't) In the Digital Age. 5 Secrets To Get Retweets That The Experts Won't Tell You. Three Minutes On Social Media. 100 more social media statistics for 2012. An Essential Key to Social Media Influence: Tell Your Story Well. Defining Social Networks in Switzerland 2011 – Fall Report.
Buzz
5 Essential Tactics to Jumpstart Your Google+ Business Page. Going viral. 10+ Ways To Use B2B Social Media In Your Business. Listening & monitoring. Social Media Users. Social Media Trends. Why It's Important To Complete Your Twitter.
---