Social Media Trends
There is a very difficult, fine line for brands using social media and where you decide to focus your efforts.
5 case studies of brands using niche social sites (and why you should too) – Simply Zesty - Simply Zesty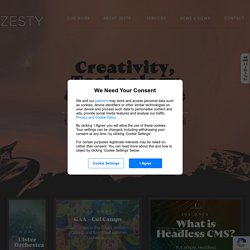 Les réseaux sociaux deviennent incontournables dans les politiques de recrutement, Actualités
Les médias sociaux en chiffres et en images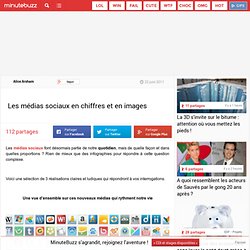 Les médias sociaux font désormais partie de notre quotidien, mais de quelle façon et dans quelles proportions ? Rien de mieux que des infographies pour répondre à cette question complexe. Voici une sélection de 3 réalisations claires et ludiques qui répondront à vos interrogations.
Entreprises/réseaux sociaux: les pays émergents "bien plus en avance" que l'Europe (étude)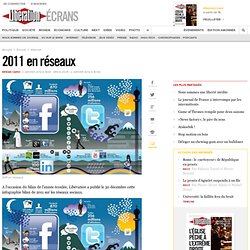 A l'occasion du bilan de l'année écoulée, Libération a publié le 30 décembre cette infographie bilan de 2011 sur les réseaux sociaux. Cliquez sur l'image pour la voir en grand Le dernier chiffre officiel date de septembre.
4 Megatrends in Social Media and Social Business
In un precedente post si è parlato di inbound marketing. Riproponiamo una infografica molto chiara sulle principali differenze tra inbound e outbound marketing, apparsa un mese fa sui principali blog di settore.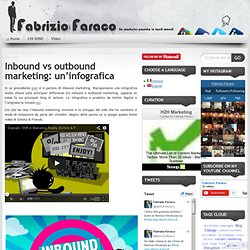 Inbound vs outbound marketing: un'infografica
Released on August 1, 2011, the Trends In Social Advertising Survey by Brian Solis and The Pivot Conference will surely be one that's bandied about and its results shared often. But I wanted to take a look, a deeper look if you, behind the numbers. Truth be told, I am anything BUT a "numbers person."
The Trends In Social Advertising Survey - Behind The Numbers
What does the future hold for the social media specialist?
In the days of yore, when alchemists transformed lead into gold and "digital ninjas" practiced their magic among us, social media strategists could dazzle lesser mortals with their skills on Twitter and Facebook. Today, every communicator is well versed in social platforms, kids with digital fluency are crowding the workforce, and even busy CEOs have figured out how to engage in a bracing Twitter feud.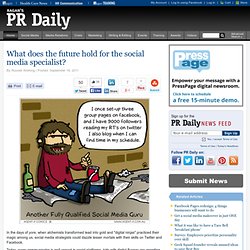 What's next for Social Media? If I had a dime for every time I've been asked that question...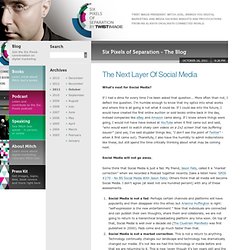 The Next Layer Of Social Media
Companies need to to incorporate social media into their online sales and marketing as a matter of urgency, concludes a Gartner report. Companies will make half of their online sales from social media and mobile applications by 2015, research company Gartner has predicted. Ecommerce managers in industries such as travel, retail, consumer electronics, and media and entertainment, will make greater use of location-based services to push personalised content to people with mobile devices who have subscribed to the services "Customers want new and easy ways to interact with companies in a new business dynamic, including through social media", said Gene Alvarez, research VP at Gartner. "As more people use smartphones, they will expect an extension of their customer experience to be supported by this kind of device while demanding that social aspects of the web be intertwined with this experience," he said.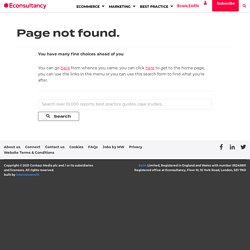 Social media and mobile apps to account for 50% of online sales by 2015, says Gartner
Trend Currents: Social Media in 2012
The speed of evolution in digital communications and technologies has created a curious conundrum for marketers and business leaders alike.